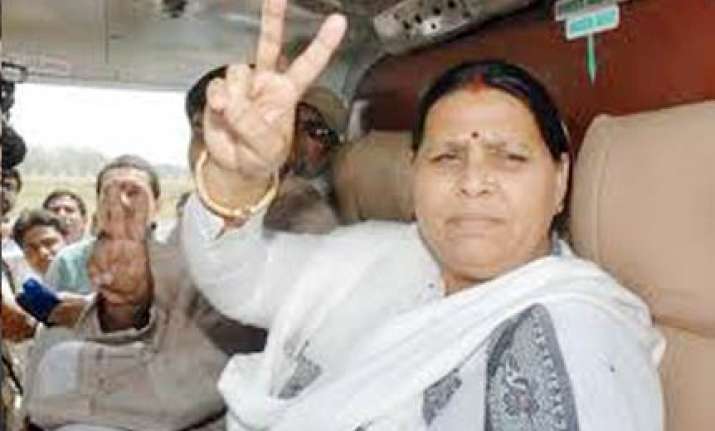 Thirteen years after she become the first woman chief minister of Bihar, Rabri Devi is ready to bid adieu to active politics, reports a news website.
The state assembly's leader of Opposition is not her party Rashtriya Janata Dal's chief ministerial candidate for the upcoming polls, but her husband Lalu Prasad is.
A RJD leader close to Bihar's first couple told rediff.com on Tuesday that Rabri Devi is fed up with politics. "She loves to be a housewife and take care of her children, husband and family. She is not keen on being a part of politics and public life," said the RJD leader who has known Rabri Devi for well over a decade.
He said that after Rabri Devi conveyed to her husband that she was no longer interested in active politics, Lalu decided to project himself for the top job.
"It is clear now that Rabri Devi's innings in active politics is more or less over," he said.
In fact, Lalu Prasad had himself indicated a few weeks ago that Rabri Devi was not ready to take over as the chief minister if the RJD-Lok Janshakti Party combine came to power.
In 1997, Rabri Devi became the chief minister of Bihar after Lalu Prasad was forced to step down from the post following corruption charges in the multi-crore fodder scam. Opposition leaders have often alleged that Lalu Prasad continued to rule the state with his wife in the CM's chair.
Rabri Devi, despite being the leader of Opposition, has also disassociated herself from active politics in the last few months.  
Political watcher Gopal Prasad Sharma pointed out that Rabri Devi had not even participated in the Bihar bandh called by the RJD and the LJP against the hike in petroleum prices in July.
She was not present at the meeting where the tie-up between the RJD and the LJP was announced on Monday. "All this indicates her plans to keep away from active politics and confine herself to the kitchen," Sharma said.
Interestingly, Rabri Devi has been chief minister for nearly eight years, a year more than her husband Lalu Prasad, who ruled the state for seven years.
However, the ruling Janata Dal - United and its alliance partner Bharatiya Janata Party said that both Lalu Prasad and Paswan know that projecting Rabri Devi as the chief ministerial candidate against Chief Minister Nitish Kumar would be a bad choice.
They said that Rabri Devi, a school dropout, would be no match for engineer-turned-politician Nitish Kumar, who is widely perceived as a politician with vision and acumen.
But political pundits are still wondering if Rabri Devi will contest the upcoming state assembly elections.