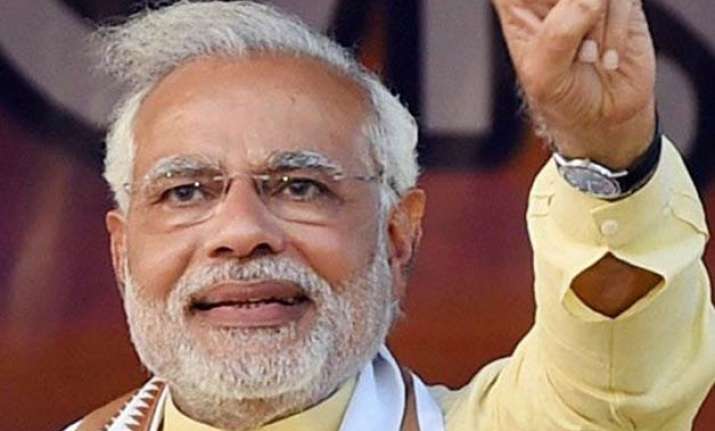 Varanasi:  Prime Minister Narendra Modi is slated to make a day-long visit to his Lok Sabha constituency here tomorrow during which he will address a public rally, inaugurate a power project scheme and open a trauma centre at the Banaras Hindu University.
Preparations are afoot at the DLW Grounds in the city to host the programme of the Prime Minister, who will reach the Lal Bahadur Shastri Airport at Babatpur here in a special plane tomorrow afternoon.
Chief Minister Akhilesh Yadav, who will also arrive at the airport from Lucknow tomorrow, and Governor Ram Naik will receive Modi at the airport.
At the programme, Modi will launch an Integrated Power Development Scheme (IPDS), give a go-ahead to the four-laning of the Varanasi-Babatpur Road and lay the foundation stone of a Ring Road here.
He will also lay the foundation stones for two power sub-stations at Chowk and Kazzakpura respectively from the DLW Grounds and later address a public gathering here.
Before heading to the DLW Grounds the Prime Minister will first inaugurate the much-awaited Trauma Centre of the Banaras Hindu University.
Modi's June 28 rally in the holy city was cancelled due to heavy rain, which had left the venue (DLW Grounds) waterlogged. So, foolproof arrangements are being made this time round and the PMO is monitoring all the preparations here.
Power Grid Corporation of India has been asked to erect a special waterproof pandal at the venue. Three special technicians have been called from New Delhi and a large number of labourers are working round the clock on it, said Sanjay Bhardwaj, Media In-charge of Varanasi Constituency as well as the Poorvanchal (Eastern UP) Region.
Pandal flooring base has been prepared by first laying bricks and then covered with plywoods, and even water pumps have been installed to meet any contingencies, he said.
Union Power Minister Piyush Goyal will also be present during the launch of the IPDS and few more Union ministers would also be present there.
State BJP chief Laxmikant Bajpai who reached Varanasi today, held meetings with party workers to look into the preparations.
UP Health Minister Ahmad Hasan along with UP Power Minister Yasar Shah will accompany Modi throughout the programme here.
A large number of central police forces along with state police forces have been deployed and senior administrative and police officials here are regularly visiting the venues where Modi's engagements are scheduled.
The venues here will be fully in control of the SPG force, an official here said.
Modi will also meet some dignitaries and prominent people of his constituency, along with some representatives of few NGOs here at the airport's VVIP lounge and will then fly back to New Delhi.