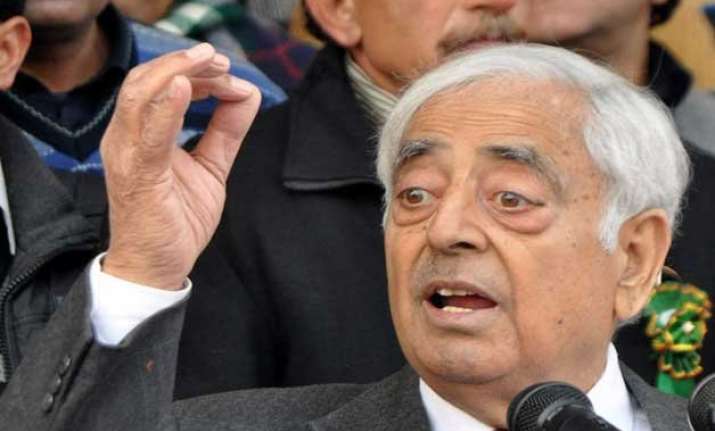 Jammu: Confirming 'track-II' talks, PDP today said it is willing to form government with BJP for the benefit of Jammu and Kashmir but listed a number of conditions with an assertion that there will be no "sell out" on "core" issues like time-bound revocation of AFSPA.
PDP patron Mufti Mohammad Sayeed, while insisting that he was not "power hungry", said he is even willing not to claim Chief Ministership if he feels it would benefit the people of Jammu and Kashmir.
Contending that he wants to bring the state out of a "quagmire", the former Chief Minister told his party workers here, "Track-II dialogue with BJP over the formation of government in Jammu and Kashmir is in progress." He went on to add, "Once the track-II dialogue gets some direction, a structured dialogue or the 'track-I' dialogue on the formation of a Common Minimum Programme will be initiated."
PDP emerged as the single largest party in last month's Assembly polls by bagging 28 seats in the 87-member House while BJP stood second with 25 seats. There has been speculation that the two parties have been holding talks to form coalition government.
"Mufti Mohammed Sayeed is not after power or the post of Chief Minister. If I feel that my shaking hands (with BJP) will benefit the state of Jammu and Kashmir and the country, I am ready to do that," Sayeed said.
However, he also said, "Jammu and Kashmir is a Muslim majority state and the Centre must respect the mandate of the people in the state."
He said the state was going through a critical phase and people need a strong and stable government that can deliver on the promises made to them during the Assembly elections.  His statement came against the backdrop of a meeting his close aide and MLA Haseeb Drabu had with Governor N N Vohra last evening to inform him about progress in the government formation efforts.
At the same time, Sayeed listed out his conditions and demands which he wants to be taken care of by BJP.  "PDP has its conditions and there will be no sell-out on our core ideology including the time-bound revocation of the Armed Forces Special Powers Act (AFSPA) and initiation of dialogue with Pakistan," he said.
AFSPA is said to be one of the main obstacles in the success of the talks as BJP's position on it is exactly opposite to that of PDP.