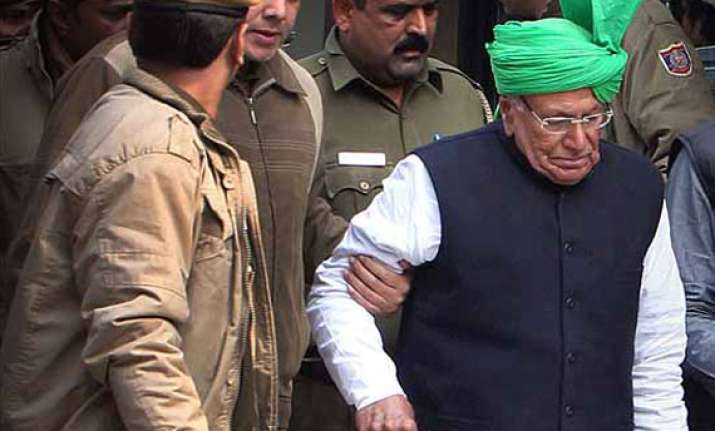 New Delhi, May 23: Former Haryana Chief Minister Om Prakash Chautala, serving jail term in teacher's recruitment scam of Haryana, will be released today for undergoing pacemaker implant surgery.
The Delhi High Court had granted an interim bail on Tuesday for six weeks for his medical treatment.
78-year-old Chautala, chief of Indian National Lok Dal (INLD), along with 54 others, is serving jail term in the 2000 teachers' recruitment scam.
The court asked Chautala to furnish a personal bond of Rs five lakh along with two sureties of like amount before the trial court as a pre-condition for his release on bail.
It also asked the former Haryana Chief Minister to surrender his passport with the trial court, besides asking him not to leave the National Capital Region without prior permission of the court.
It also asked Chautala to get himself admitted at Medanta Medicity within 24 hours of his release on bail for undergoing the surgery.
The high court, however, gave liberty to CBI to seek cancellation of his bail if any condition imposed is violated by Chautala.
"It goes without saying that CBI will have the liberty to apply for cancellation of bail if any condition is being violated by the appellant/applicant," Justice Mridul said.
The court, however, disallowed the submission of CBI that Chautala be restrained from addressing any press conference during the period of bail.
"How can this court curtail the fundamental right of a citizen. I don't wish to comment on it. If you persist with it (arguments), then it seems it is not coming from CBI," the court observed during the hearing without elaborating.
Earlier, a report was filed by a medical board which was constituted in pursuance of the court's direction on May 16.
(With PTI inputs)