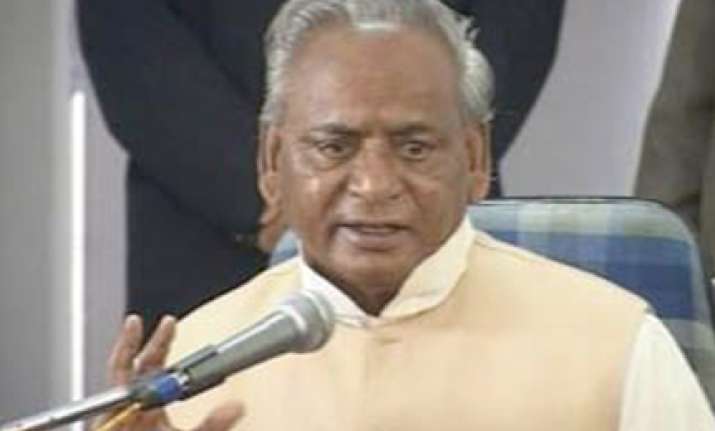 Snubbed by Mulayam Singh Yadav, former Uttar Pradesh chief minister Kalyan Singh on Sunday in Lucknow called the Samajwadi Party chief a "traitor" and indicated he was willing to return BJP while his son Rajbir Singh resigned from SP.
'Mulayam is a traitor. He did not have the courage to accept defeat in the recent bypolls and is blaming me for it. I have committed many mistakes in my life and accepting the friendship with Mulayam was the biggest one," Kalyan Singh told reporters here a day after the SP supremo dissociated himself with the former BJP leader.
 Asked about his future political course and rejoining BJP, Kalyan said "all options are open".
"Mein RSS ka swayamsewak tha aur abhi bhi hun" (I was a worker of RSS and am still there)", the former BJP leader said while talking of strengthening Hindutva ideology.
He claimed both Mulayam and SP general secretary Amar Singh had visited his house in Delhi and Lucknow and wanted him to join the party but he declined the offer and would stick to his stand in future also.
"Mulayam is blaming me for the defeat in bypolls stating that Muslim voters drifted from SP. But I want to ask why 40 per cent voters did not vote for SP in Firozabad. Similarly, OBCs, Brahmins, Thakurs, Nishads and other castes did not vote for SP", Kalyan said asking Mulayam to introspect about the real casue behind SP's dismal performance in bypolls.
About BJP, Kalyan Singh said though there were "some problems" in the party with RSS chief Mohan Bhagwat "taking its charge", BJP would "soon emerge stronger".
Accompanied by his father at the press conference, Kalyan's son Rajbir charged Mulayam with hurting the sentiments of his father and said "we are deeply hurt by the statement given by the SP chief yesterday and there is no point in staying in a party where my father and his supporters are insulted".
Mulayam had said that he would never take Kalyan in SP.
Accepting that his support to SP had weakened BJP in Uttar Pradesh, Kalyan said he was ready to "compensate" by working for the party, "may be from outside".
"I am remorseful for my act to weaken the party. But I will do whatever is needed to strengthen it and propagate Hindutva ideology", he said.
 "People used to tell me that he (Mulayam) is a traitor and only thinks of his family but I trusted him", Kalyan said adding that despite his "fractured" leg he had campaigned for SP during Lok Sabha polls due to which it got 23 seats.
"Had I not campaigned for SP, it would have got less than 14 seats in Lok Sabha" , Kalyan claimed alleging that due to the "selfish approach" of Mulayam, leaders like Raj Babbar, Beni Prasad Verma and Mohammad Azam Khan had left the party.
"Mulayam had even ditched his community friends", he charged.
Hailing Congress' stand on Mulayam, Kalyan said, "I appreciate Congress which had timely understood Mulayam's nature and kept him at bay".