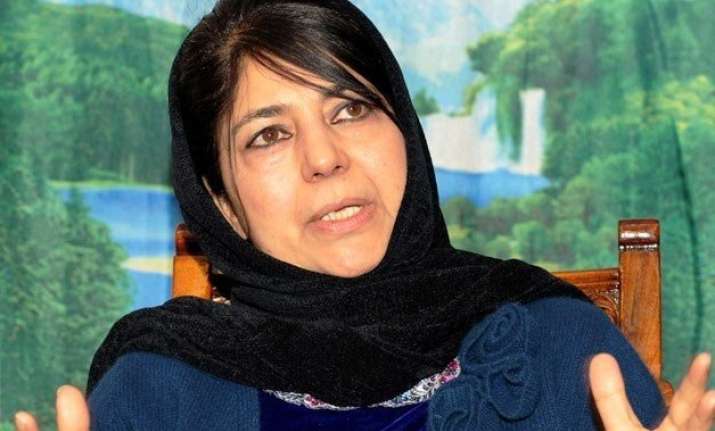 Jammu: Amid growing confusion over fate of PDP-BJP alliance in Jammu and Kashmir, PDP chief Mehbooba Mufti will hold a meeting with senior PDP functionaries, on Sunday to take a final call on  government formation in the state.
Following the death of Mufti Mohammad Sayeed, the People's Democratic Party (PDP) had said it will review the implementation of its Agenda of Alliance -- entered with the BJP in Jammu and Kashmir -- during the term of the coalition government headed by the PDP founder before making a decision on fresh government formation.
"Talks with separatists, Centre's non-interference in state affairs, retrieval of public land under Army's occupation and return of some NHPC-run power projects to the state government are among the main points of PDP's new Agenda of Alliance," party sources were quoted as saying to The Tribune.
 "Mehbooba will agree to renew the coalition only if she gets "concrete assurances" from BJP and it is highly unlikely that she will agree to head the same ruling coalition if BJP does not walk the extra mile," Times of India also quoted its sources as saying.
According to The Hindustan Times report, Mufti will discuss her father's agenda of peace and development today. "We will discuss the agenda of peace and development set for the party by the late chief minister," party spokesman Nayeem Akhtar said while adding that the party has authorised Mufti to decide on government.
However, BJP leader Nirmal Singh, the 'Agenda of Alliance' was non-negotiable and would remain as it was set up by the coalition partners at the time of stitching the alliance last year.
After Sayeed's death, PDP hasn't elected a leader of the legislative assembly. Jammu and Kashmir is under governor's rule after PDP delayed government formation following the chief minister's demise.
The stand-off can mean continuation of the governor's rule even as mid-term polls look an option.