Follow us on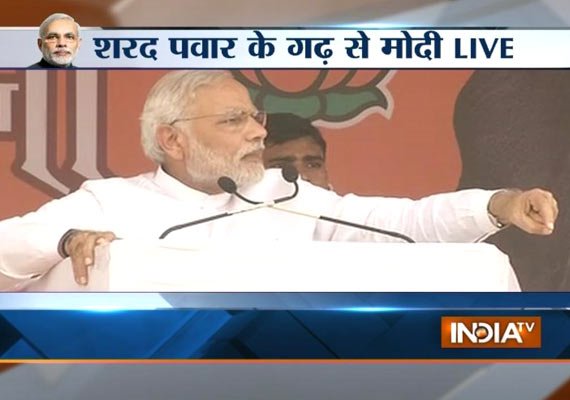 Baramati (Maharashtra): Launching a blistering attack on NCP Chief Sharad Pawar and former Maharashtra Deputy Chief Minister Ajit Pawar in their family's bastion, Prime Minister Narendra Modi today said politicians who poke fun at people seeking water have no moral right to ask for votes.
"Don't you remember what he (Ajit Pawar) told you when you asked for water? It was only water you had asked for. It is unthinkable that such people become ministers, my head hangs in shame.
"They have no right to ask for votes. It is a matter of your prestige now. Throw them out," Modi said addressing a poll rally at Baramati, the pocket borough of the Pawars, raking up an embarrassing episode involving Ajit Pawar, the NCP chief's nephew.
Ajit Pawar, while ridiculing a farmer fasting for water had said at Indapur,"He has been fasting for the last 55 days.  If there is no water in the dam, how can we release it? Should we urinate into it? If there is no water to drink, even urination is not possible."
Pawar's remarks had triggered an outrage, forcing him to tender an apology.
Equating Pawar family's grip over Baramati to slavery, Modi said, "The nation became independent but Baramati is still yoked to slavery. Be it for job or water for farms, people have to seek permission from the uncle-nephew duo.  Farmers cannot even sell their sugarcane crop without their nod."
"Gandhiji shook the British empire with a handful of salt at Dandi. You don't have to even use your fist to get freedom.  What you need is a finger to press on BJP's lotus symbol and freedom will be yours," he said.
Modi said NCP's election symbol clock symbolised their misdeeds.
"NCP's clock (party symbol) is actually an eye opener. If you observe it closely you will find the clock is stuck at 10.  It tells us that in 10 years corruption has grown 10 times during their rule. Such politicians have no place in Maharashtra politics," he said.
While Ajit Pawar is a sitting MLA from Baramati, Sharad Pawar won the seat five times in a row from 1991 to 2009 when he handed over the baton to his daughter Supriya Sule, who won the seat twice in 2009 and 2014.