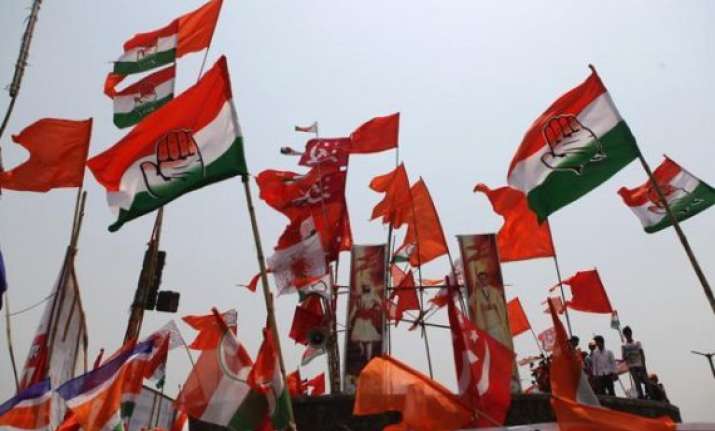 Mumbai: With big alliances torn asunder in Maharashtra, multi-cornered contests in the upcoming assembly elections have left Mumbai voters spoilt for choice.
With less than a forthnight to go for the voting, Congress party which won 17 out of the 36 Mumbai assembly constituencies in the 2009 assembly polls is fighting a tough battle to retain its hold over the country's financial capital while the BJP is aiming to encash the "Modi wave" even as the Shiv Sena is banking on its well entrenched grassroot network to see it through the hustings.
Choice of candidates and their credentials as well as addressing the aspirations of the young voters will be among the issues which will be the focus of Congress party and the Sena-BJP.
NCP which had won three seats in 2009 assembly elections while in alliance with the Congress is now contesting all the 36 seats.
BJP hopes a repeat of the May general election results and is projecting Prime Minister Narendra Modi as the face of its campaign. The BJP-Sena alliance had swept the parliamentary polls grabbing all the six seats in the city.  Shiv Sena is highlighting its President Uddhav Thackeray and his 24-year-old son Aditya. The party is projecting itself as one with a "real identity" of Maharashtra.
It has put up mobile vans in different constituencies highlighting its vision document and appealing to voters to help in realising the dream of Late Bal Thackeray to unfurl the saffron flag atop Mantralaya.  Congress, through its ad campaigns has projected Prithviraj Chavan as its chief ministerial candidate.  
"Congress projecting its chief ministerial candidate is not a rule but an exception this time. While the BJP not having a face to its campaign is an exception and not a rule," Congress MLC Sanjay Dutt said.
Even though the party is highlighting the infrastructure development in Mumbai as one of its achievements, the faction-ridden Mumbai Congress is a hurdle for the party to achieve its goal.
The faction-ridden Mumbai Congress hopes to turn the tide against the Sena and BJP by highlighting the differences between the two saffron parties. Similarly, it remains to be seen how the MNS which bagged six seats in the megapolis in 2009 is able to retain its vote share this time, observers feel.
Congress leader Priya Dutt's differences with Textile Minister Mohammed Arif Naseem Khan and former Mumbai unit Congress chief Kripashankar Singh led her to fighting a lonely battle in the Lok Sabha polls, a Congress functionary said.  The key seats would be Andheri East from where Health Minister Suresh Shetty will seek a fourth term; Chandivali where Arif Naseem Khan is contesting; Dharavi where Women and Child Welfare minister Varsha Gaikwad will be the candidate, and Kalina, where former Mumbai congress chief Kripashankar Singh accused in disproportionate assets case is testing his luck.
While Leader of Opposition in Legislative Council Vinod Tawde is contesting from Borivali, considered a safe seat and Mumbai BJP chief Ashish Shelar is making a fresh bid to defeat sitting Congress MLA Baba Siddique from Bandra west.  Shiv Sena leader Subhash Desai is seeking re-election from Goregaon.
In 2014 Lok Sabha polls, Congress got a lead only in Mumbadevi and Byculla assembly segments of South Mumbai while the NCP had gained in Mankhurd-Shivajinagar in North East Mumbai. Congress-NCP lost all the six parliamentary seats, which it had held since 2004, to the Sena-BJP combine.  
Observers feel North Indians, Gujarati speaking population which are in significant numbers spread across the city and suburbs will play a deciding role in the assembly poll results.
With very less time for campaigning, all candidates are on 'padyatras' and door-to-door contact with voters. Prime Minister Narendra Modi will address a rally in Mumbai tomorrow while Congress president Sonia Gandhi is expected to be in the city next week.
All the parties are contesting the 36 seats except Shiv Sena which is supporting Geeta Gawli, daughter of former underworld don Arun Gawli in Byculla.