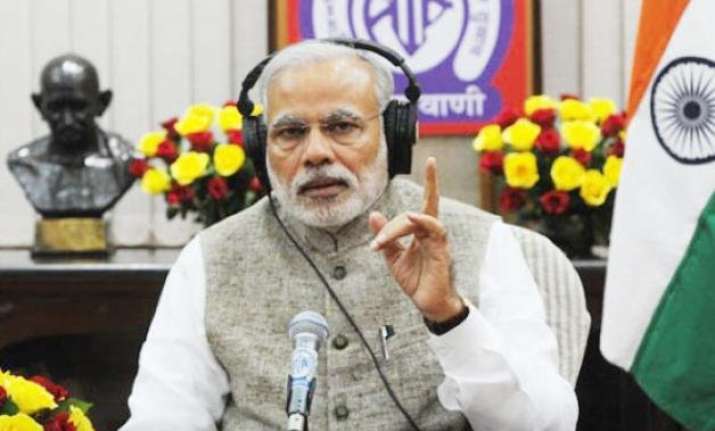 New Delhi: Prime Minister Narendra Modi on Sunday told students appearing for board exams to remain positive, and not to come under pressure of expectations.
Modi, in his radio programme "Mann Ki Baat", also had ace cricketer Sachin Tendulkar and chess champion Vishwanathan Anand giving messages to the students.
He asked students not to 'get burdened under the expectations of others' and 'set own targets'. "Why should we compete with others, why not compete with oneself. Break your own previous record," he said
The Prime Minister was joined by cricketing legend Sachin Tendulkar and chess maestro Viswanathan Anand in the programme. The two also appealed students to stay calm and remain positive.
India to establish lab to study gravitational waves
India has decided to establish a Laser Interferometer Gravitational-Wave Observatory (LIGO), where gravitational waves can be studied, Prime Minister Narendra Modi announced on Sunday.
The Prime Minister said that Indian scientists are also in the research team that studied gravitational waves. He also announced that within its limited resources India will also participate and contribute in the research through the LIGO.
Highlights:
* I am calm and confident about tomorrow'a exam. Day after tomorrow, your exams are commencing, hope wee are be successful: PM
* 125 crore citizens of this country will take my examination tomorrow. Union Budget will be presented in Parliament: PM Modi
* Your exams are approaching, but tomorrow is mine too. Tomorrow is the Budget day, February 29, leap year: PM Modi
* 81908-81908...कल से आप missed call करके इस नंबर से मेरी 'मन की बात' सुन सकते हैं, आपकी अपनी मातृभाषा में भी सुन सकते हैं : PM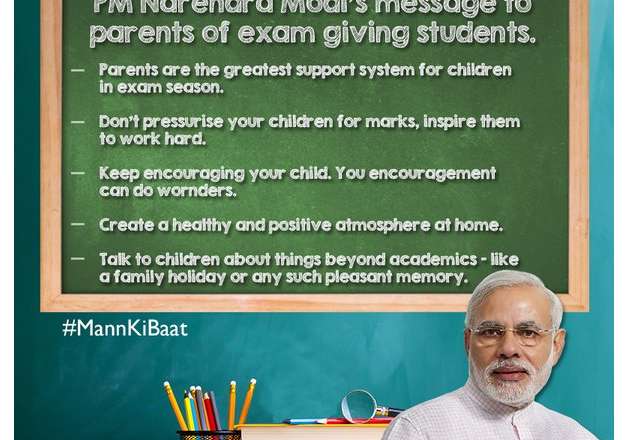 * This time the theme of National Science day is 'Make in India, science and technology driven innovations': PM Modi
* Innovation is not possible without science and technology: PM Modi
* Curiosity is the mother of science. Innovation is not possible without science & technology: PM Modi
* Parents, teachers and seniors are an invaluable support system for students during exam time: PM Modi
* JK Rowling a brilliant example of how anyone can achieve success any time. She had to face many difficulties & failures: PM Modi
* Nowadays, exams are not only of the students, but of the entire family: PM Modi
* There are many opportunities in this country. Decide what you want to do in life and don't give it up: CNR Rao
* I fully realise that the examinations cause anxiety. That too competitive examinations. Do not worry, do your best: Professor CNR Rao
* Read the instructions very carefully, you will be able to cope with it: PM Modi
* So many people wrote to me on the Mobile App on Yoga and meditation during this exam season: PM Modi
* We should rather spend some good time with our family and friends and relax: PM Modi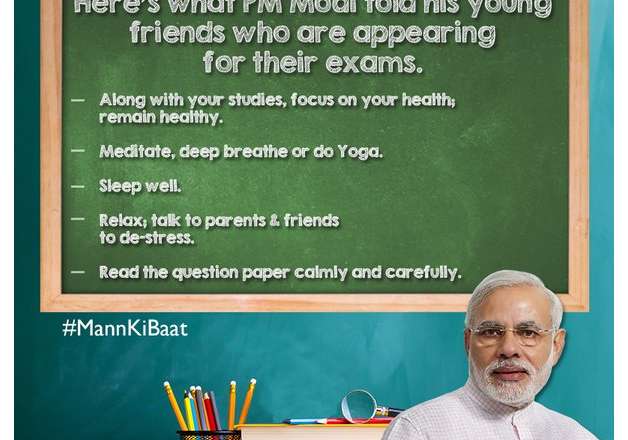 * Your mind is often entangled in the exam that is over, but don't do this. What has passed, has passed: PM Modi
* Usually, we start calculating how much we will score soon after an examination is over. please do not do this: PM Modi
* If your mind is at peace you will be able to find the treasure of knowledge and exams will become much easier for you: PM Modi
* लाज़िम नहीं कि हर कोई हो कामयाब ही, जीना भी सीखिए नाकामियों के साथ : Pujya Morari Bapu quotes a few lines to express good wishes to students
* परीक्षा के समय में मन पर कोई भी बोझ रखे बिना, बुद्धि का एक स्पष्ट निर्णय करके और चित को एकाग्र करके आप परीक्षा में बैठिये: Pujya Morari Bapu
* Today someone who is an educator, he has sent his message: PM Modi talking about respected Morari Bapu
* Have always found that these exams go much better than you fear before. So stay confident and all the very best: Anand
* You need to be well rested, get a good night's sleep, be on a full stomach the most important thing is to stay calm: Anand
* First of all, let me start off by wishing you all the best for your exams: Viswanathan Anand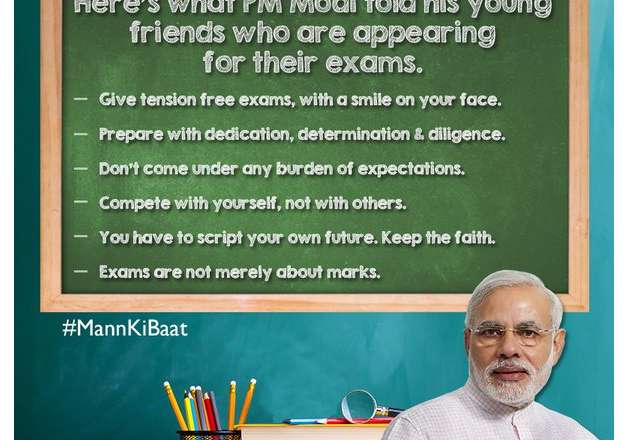 * आप देखिये, अपने-आपको कभी जो निर्धारित है, उसमें compromise करने की आदत में मत फंसाइए: PM
* वैसे जीवन में, discipline सफलताओं की आधारशिला को मजबूत बनाने का बहुत बड़ा कारण होती है: PM
* Prabhakar Reddy has also made a valid point about a good rest during exam times: PM
* Shrey Gupta wrote to me about the importance of good health during exams: PM
* एक बहुत बड़े उद्देश्य को ले कर के चलिये और उसमें कभी अपेक्षा से कुछ कम भी रह जाएगा, तो निराशा नहीं आएगी: PM
* Exams are not merely about marks: PM
* Set your targets and pursue them with a free mind, without pressure. Compete with yourself and not others: PM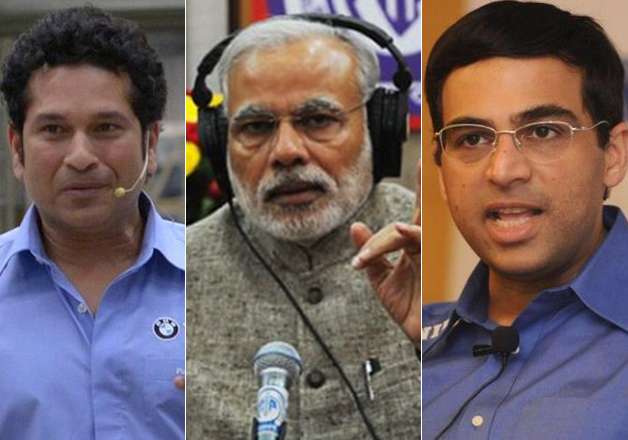 * आपकी सोच positive होनी बहुत ज़रूरी है I positive सोच को positive results follow करेंगे: Sachin
* Cricketer Sachin speaks about expectations & setting one's own targets.
* Well known cricket player, the widely admired Sachin joins Mann Ki Baat.
* मैं कुछ कहूँ, उसके पहले 'मन की बात' का opening, हम विश्व के well-known opener के साथ क्यूँ न करें : PM
* PM @narendramodi appreciates students, parents and teachers for sharing their thoughts and experiences on the Mobile App
* अगर हम exam को, परीक्षा को देखने का अपना तौर-तरीका बदल दें, तो शायद हम चिंतामुक्त भी हो सकते हैं : PM
* I am sure your mind is on the exams of your children that is starting or may have started: PM
The Central Board of Secondary Examination (CBSE) Class 12th board exams are being held from March 1 to April 24, while class 10th exams will begin from March 1 and end on March 28.
Modi, through Mann Ki Baat, had in past shared his thoughts on a range of issues including drug addiction, farmers problems, menace of corruption, declining sex ratio, promotion of Khadi and high rate of casualties in road accidents.
Regional language versions of the programme are aired by AIR stations in respective regions at 8 PM.