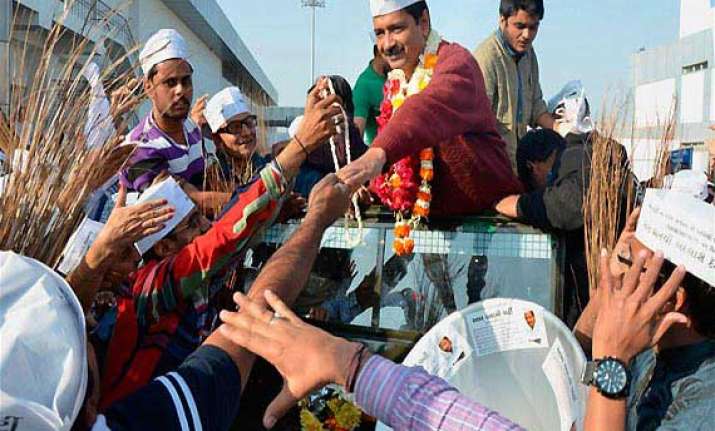 Rewari (Haryana): AAP leader Arvind Kejriwal today apologised to mediapersons after one of them was allegedly manhandled by party workers in Dharuhera of the district.
The incident took place just before Kejriwal, along with party nominee from Gurgaon Lok Sabha seat Yogendra Yadav, reached Bhagat Singh Chowk in Dharuhera to garland a statue of the freedom fighter.
A senior journalist was manhandled by a group of AAP activists when he objected to alleged "insult of the national flag" by them.
Later the matter was brought to the notice of senior AAP leaders. On learning about the incident, Kejriwal tendered an apology and asked the mediapersons to treat the matter as a "closed chapter".
After holding a road show in Dharuhera, Kejriwal reached Rewari where they were accorded a warm reception by party activists.
When the former Delhi Chief Minister's caravan reached Moti Chowk here, he urged the people to ensure AAP candidates' victory if they wanted elimination of corruption and dynastic rule which, according to him, had eaten into the vitals of the nation.
Later, Kejriwal's road show reached Agrasen Chowk where they were shown black flags by some Shiv Sena activists led by local leader Shammi Sharma, who denounced AAP for allegedly maligning the image of BJP's prime ministerial candidate Narendra Modi.