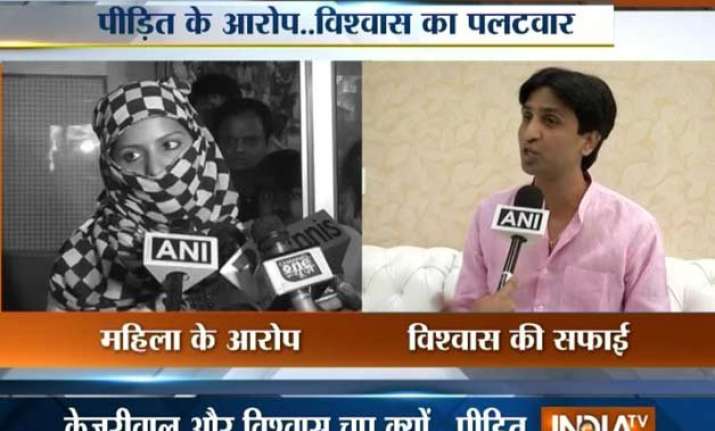 New Delhi: AAP leader Kumar Vishwas today said that the rumours of his illicit relationship with an Aam Aadmi Party volunteer were being spread by opposition parties and that  it was a ploy to defame him and his party.
Poet-turned-politician Vishwas said that the woman who filed a complaint against him with Delhi Commission for Women used to call him 'bhaiya' (brother) and showed a print-out of an e-mail to prove his claim.
Giving a detailed account of the whole affair, Vishwas said, "She had filed a report with Delhi police that some people including a spokesperson of Delhi BJP were spreading rumours against her through Twitter trolls. It has been a fortnight since the complaint was lodged and Delhi police has not arrested anybody yet and has not taken any action."
Also Read: Women's commission summons AAP leader Kumar Vishwas
Vishwas alleged that ex-AAP leader and BJP member Shazia Ilmi and other BJP leaders misled her to target him.
He challenged his political opponents to fight him persomnally and not to target him through these kinds of allegations.
The woman, an Aam Aadmi Party volunteer who had campaigned for Kumar Vishwas in Amethi during Lok Sabha elections, alleged that Vishwas' wife is claiming that she caught her and Vishwas in compromising position and then started a 'rumour' on social media along with her picture.  
Earlier in the day she alleged that she is getting threat calls to back down after her complaint to Women Commission regarding rumours of her illicit relationship with Kumar Vishwas.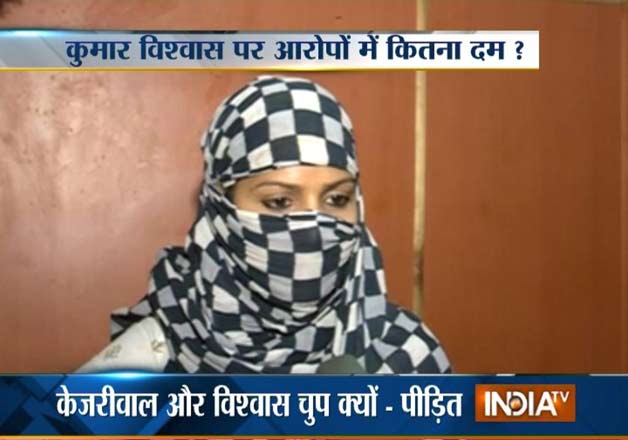 Earlier, AAP leader Kumar Vishwas and his wife have been summoned by Delhi Commission for Women after a party volunteer approached it claiming that "false rumours" of his having illicit relationship with her were ruining her reputation and that he should come forward to clarify.
Also Read: AAP backs Vishwas, says media 'twisting' story to defame party
The woman claimed that she had also written separate letters to Delhi Chief Minister Arvind Kejriwal and Police Commissioner apprising them of the same.  She has alleged that Vishwas took no action towards dispelling the "rumours" while Kejriwal did not take note of her complaint.
Speaking to India TV, the AAP volunteer said, "I sent two letters to Kumar Vishwas and went to meet him thrice but he did not see me. I wrote to Arvind too but did not get any response from him either and then I moved to DCW."
Targetting Kejriwal for his silence on the matter,the woman volunteer asked "If the same had been done to his sister or daughter, would he still be silent?"
When asked if she met Kejriwal regarding the matter, she said, "I was not allowed to meet Arvind as I was turned away at the gate."
The woman moved to DCW after she was turned away by Kejriwal following which Vishwas was issued a summons.  The woman alleged that after the summons, a 'Mr Shail', an aide of Kumar Vishwas, called her and threatened her to back down.
She claimed that she had the audio recording of the conversation.
"It is the same volunteer who has been coming to us for quite some time now. He (Vishwas) should come since the complainant is his own party's volunteer. Her marriage is falling apart because of him she has alleged," DCW Chairperson Barkha Singh said.
Vishwas, a member of AAP's Political Affairs Committee, has been asked to appear before the Commission on Tuesday.
The party came out in defence of Viswas, who has in the past too courted controversy over his alleged derogatory remarks against women.
"The allegation is totally false and baseless. AAP is being targeted. There is no basis for the allegation. Please spare our families," AAP leader Sanjay Singh said.
Viswas, in a series of tweets, has accused the media of playing into the hands of the BJP and of being "extortionist".
Vishwas said the allegations were false and baseless and part of a defamation campaign against the Aam Aadmi Party by rival parties.
"We will not be affected or frightened away by such attempts to malign us with lies. We will fight till our last breath against political corruption," the AAP leader said.  He said he is yet to receive the notice and will respond appropriately.
Delhi BJP leader Vijendra Gupta said that Vishwas and the Delhi Chief Minister should come forward to clarify.  "If he is not clarifying that means there is something fishy.... we are with that woman and will support her," he said.
Congress leader Ajay Maken said it was a serious complaint and should be looked into.
The woman, who claims to have campaigned for Vishwas in Amethi during the 2014 Lok Sabha election, said, "Just because of this allegation my husband has left me. I have two kids. I come from a middle class family where they feel that since Kumar Vishwas is AAP spokesperson and a known face, maybe there was something between the two.  
"I am unable to explain. That's why I want Kumar Vishwas to speak on this but he is not doing so. That's why I had to go to the Women's Commission."
She alleged that she also received a threatening call over her complaint.