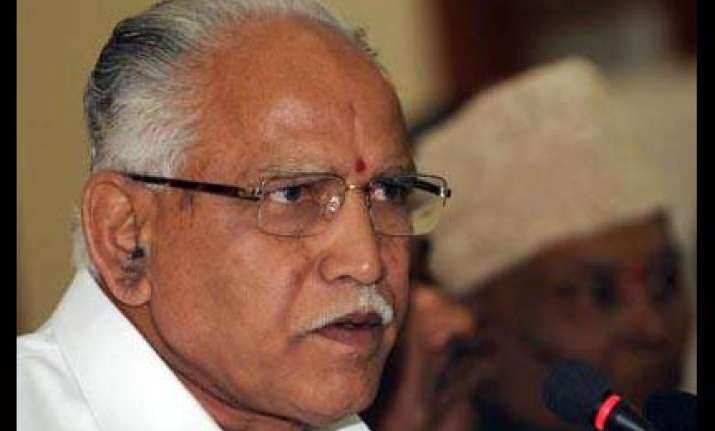 Bangalore , Nov 2: In a last minute decision, Karnataka Chief Minister B S Yeddyurappa has shelved plans to expand his ministry tomorrow, apparently fearing an adverse fallout as many ministerial aspirants are vying for posts.
Yeddyurappa, now camping in his home district of Shimoga, has decided against inducting four new faces, sources close to him told PTI today.
Three days ago, the state government had requested Governor H R Bhardwaj to administer oath of office and secrecy to the new ministers at Raj Bhavan at 0930 hours tomorrow for which the Department of Information had even dispatched invitations to the media.
Yeddyurappa, who only recently managed to survive a trust vote in the assembly, had decided to fill up four of the six vacant ministerial berths.
Ahead of the planned ministry expansion, Yeddyurappa encountered stiff resistance from a section of partymen, who are ministerial aspirants but feared that would not make the final cut.
The BJP's Chief Whip in the state Assembly D N Jeevaraj quit his post yesterday, apparently unhappy that he may not find a slot.
A section of the partymen has been opposing rewarding of independent Varthur Prakash and Narasimha Naik, rebel-turned-loyalists, with the ministerial berths while ignoring claims of senior legislators.
BJP sources said Yeddyurappa held discussions with the state unit party President K S Eswarappa and informed him about his decision to drop ministry expansion exercise.
Meanwhile, another party source said that the Chief Minister was forced to call off the ministry expansion exercise following a directive from the BJP high command.
Some party leaders were also against Yeddyurappa rushing into ministry expansion at a time when the government was struggling to recover from the crisis after 16 MLAs, including 11 party rebel MLAs, withdrew support.
The rebel MLAs are planning to move the Supreme Court challenging the High Court decision which upheld their disqualification by Assembly Speaker. PTI