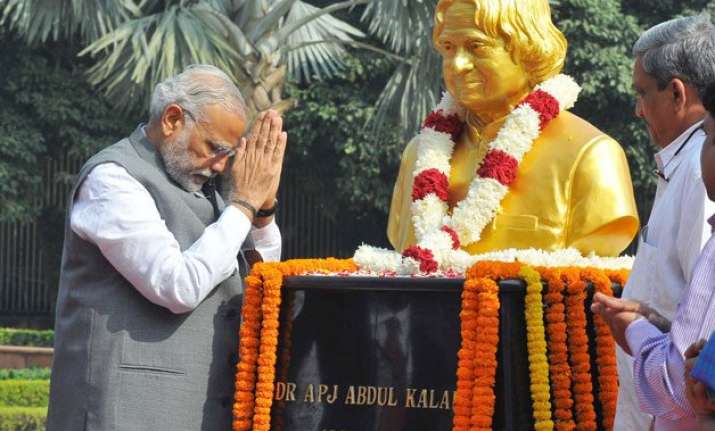 New Delhi: Paying glowing tributes to former President A P J Abdul Kalam on his 84th birth anniversary, Prime Minister Narendra Modi today said Kalam always looked for "challenges" and his life is a source of inspiration for all Indians.
He said the government would construct a memorial for Kalam at his birth place in Tamil Nadu.
"There are two types of people, one who look for opportunities and the other who look for challenges. Kalam Saheb was the one who always looked for challenges, which he continued doing till the end of his life," Modi said while addressing a function organised here to celebrate the birth anniversary of the former President, who passed away on July 27.
He said that Kalam was a "Rashtraratan" before he became a Rashtrapati.
Hailing the former President's rich contribution, Modi said the void left by his absence can only be filled by following his teachings in true spirit.
"Just after leaving the Presidency, after such a big position, he went to teach. This can't happen without an inherent commitment.... Our young scientists should get inspired by the way shown by Dr Kalam," he said.
Modi said that government has already acquired the land for Kalam's memorial at his birth place Rameswaram, adding, "a committee has been set up to discuss modalities in this regard".
The Prime Minister also released a commemorative postage stamp.
Earlier in the day, the Prime Minister inaugurated a photo exhibition titled "A Celebration of Dr Kalam's Life" and unveiled a bust at DRDO Bhavan here.
Defence Minister Manohar Parrikar, Urban Development Minister Venkaiah Naidu, Communication and IT Minister Ravi Shankar Prasad and Science and Technology Minister Harsh Vardhan were among the dignitaries present on the occasion.
"Today we salute APJ Abdul Kalam and celebrate his monumental achievements as a scientist, scholar and the President of India. We fondly remember his passion for teaching and education. Dr. Kalam truly ignited young minds with the power to think and innovate. Dr. Kalam is not with us today but his thoughts, ideals and vision for India live on forever," Modi tweeted.
Bharat Ratna awardee Kalam passed away on July 27, 2015. He was the 11th President of India from 2002 to 2007.