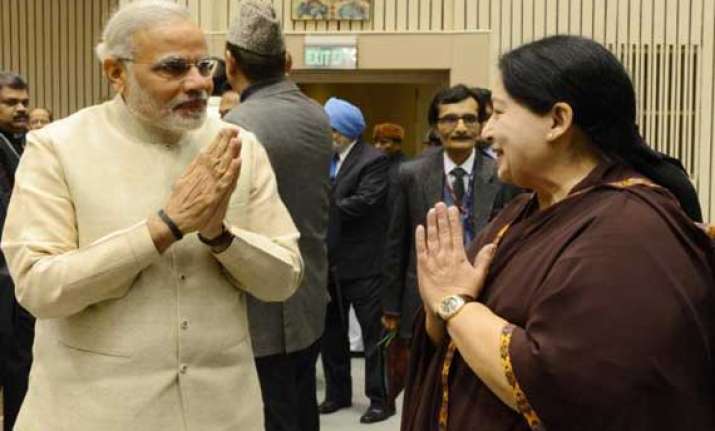 New Delhi: Tamil Nadu Chief Minister J Jayalalithaa will meet Prime Minister Narendra Modi in Delhi today amidst speculation that the BJP is trying to lure her party, the AIADMK, into the NDA-fold to seek its support in the Rajya Sabha where the ruling party is in a minority.
Sources said Jayalalithaa will meet Modi and finance minister Arun Jaitley and discuss the AIADMK's intention to join NDA.
Though the BJP-led coalition has enough numbers in the Lok Sabha, the party feels it should have good relations with non-Congress parties to help it pass bills in the Rajya Sabha where the government is in a minority.
Jayalalithaa will present a wishlist, seeking Modi's intervention on a wide range of critical issues, including a huge financial package from the Centre, additional power from the Centre's pool and permanent solution to the inter-state water-sharing row.
Kerala CM Oommen Chandy and Odisha CM Naveen Patnaik called on Modi on Monday and sought the support of Centre in implementing welfare schemes.