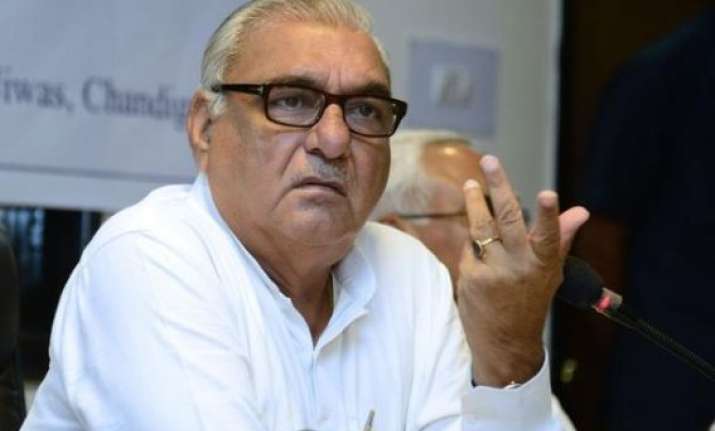 Chandigarh: Campaigning for Congress, Haryana Chief Minister Bhupinder Singh Hooda today appealed to voters "not to waste" their votes on BJP and Indian National Lok Dal (INLD) in the October 15 Assembly polls.  
Addressing an election rally in Samalkha in Panipat district today, Hooda said while one party (BJP) cannot name its chief ministerial candidate, the other party's (INLD) leader says he will take oath from jail as the chief minister.  
"Tell me, is there any legal system in the country or not?  A person who cannot even contest Assembly election, is thinking of becoming the Chief Minister," Hooda said attacking former chief minister and INLD chief Om Parkash Chautala.  
Hooda appealed to the people to vote for Congress's Samalkha candidate, Dharam Singh Chhokkar. "I will be right behind to take care of development of the region," he said.  He alleged the BJP government at the Centre has no regard for farmers of the country.
"Prices of cotton crashed this year in Haryana and the farmers are suffering as a result, but the Centre neither took note of it nor took any action," he said.  He also slammed the BJP government for failing to control price rise.
Dismissing the "Modi wave" in the country, Hooda said if this was the case, they should explain why they lost 21 of the 42 seats they held earlier, in the recent bypolls.  "The fall from grace took place in just three months and in the next four months they would become zero," he said.  
Outlining Congress government's all round development in the state in the last nine years, Hooda said 3.83 lakh people have been give 100 square yards plot of land free and 20 lakh Dalit students were given scholarships.  
Gujarat gives scholarship of Rs 225 per student per year, while Haryana gives the same amount per month, he said.  Hooda also addressed public rallies today in Rai in Sonepat, Karnal, Kalsora village in Indri, Radaur, Kurukshetra, and in Thanesar.