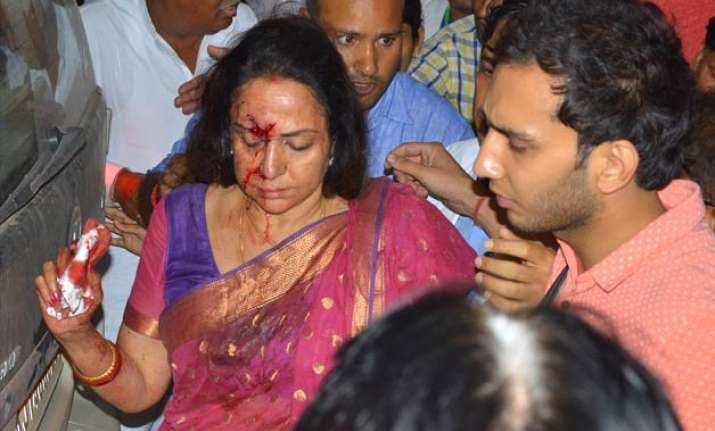 Jaipur: Bollywood Actress and BJP MP Hema Malini's driver was today detained and an FIR filed against him for rash driving and causing death by negligence in connection with last night's accident in which a four-year-old girl was killed and five others including the actress were injured.
Ramesh Chand, who was driving Hema's Mercedes that collided with another car, has been detained for interrogation at Kotwali Thana, SHO Dilip Singh told PTI.
Hanuman Mahajan, who lost his daughter in the accident in Dausa, 60 km from here, and was among the four injured, filed an FIR with the Kotwali police station there against Ramesh.
FIR was lodged against the driver, who hails from Vrindavan, under various sections of IPC including 279 (rash driving) and 304 (A) (causing death by negligence) in the wee hours, SHO said.
He said both the vehicles were seized and a probe was on.
"It is to be ascertained how the accident occurred and who was at fault," he said, adding there were three persons in Mercedes-- BJP MP from Mathura Hema Malini, her PA and driver, while five persons including two children, two women and the complainant Hanuman Mahajan were in the other car.
Sonam, four-year-old daughter of Hanuman, succumbed to injuries on way to hospital in Dausa, while four others Hanuman, his wife Shikha (35), Somil (5), and Seema (40), were shifted to Jaipur's SMS hospital, the SHO said.
The 66-year-old actress was undergoing treatment at Fortis hospital here.
"She suffered a cut near an eyebrow, some problem in nasal bone, injury on forehead and had body ache," Rajasthan Minister Rajpal Singh Shekhawat, who visited her late last night, told reporters.
Shekhawat said she went through CT scan and other tests as a matter of precaution. Plastic surgeons were examining her face and wounds.
A number of other specialists including Anoop Jhurani, bone replacement expert, also attended to the actress, a senior doctor said.
Hema was proceeding from Mathura via Bharatpur to Jaipur when the mishap occurred on Agra-Jaipur National Highway-11 near Dausa in Rajasthan around 9 PM  yesterday. The other car was going from Jaipur to Lalsot.
Locals staged a protest after the accident and tried to block the highway, but they were dispersed by police, the SHO said.