Follow us on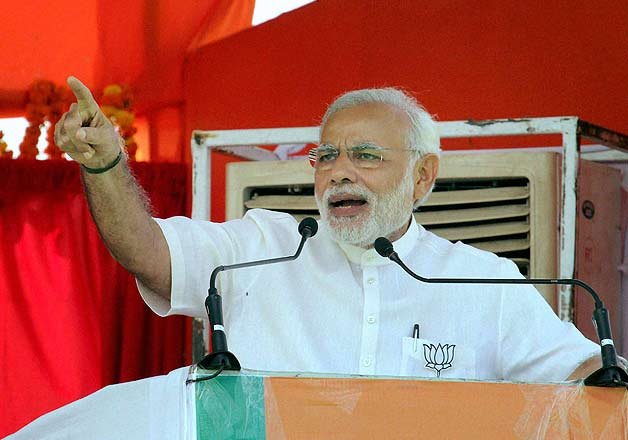 Buxar/Siwan (Bihar): Under attack over alleged attempts at tinkering with quotas, Prime Minister Narendra Modi today hit back, accusing Bihar's grand alliance of plotting to give away five per cent share in reservations for SCs, STs and OBCs to "a particular community", a move he vowed to oppose even if it meant "sacrificing" his life.  
Modi said the leaders of "Mahaswarth" (opportunistic) alliance were trying to mislead the people on the issue of reservation as Constitution does not provide for quotas based on religion. He also said the Supreme Court had put a cap of 50 per cent on reservations.
"These leaders are making a devious plan. They are conspiring to take away 5 per cent reservation of dalits, mahadalits, backwards and extremely backwards and give it to a particular community.
"I come from an extremely backward class and understand the pain of having been born to a poor woman. I will not allow this to happen. I pledge to protect the rights of dalits, mahadalits and backwards, even if it means sacrificing my life," he said addressing an election rally in Buxar.
Modi attacked the grand alliance leaders Nitish Kumar, Lalu Prasad and Sonia Gandhi for trying to "mislead" the people reservation and said he will never allow quotas on religious lines.
"Nobody will be allowed to take away the rights of dalits, mahadalits and backwards and give it to any other community in pursuit of their votebank politics," he said.  If the anti-BJP alliance is voted to power 'Jungle raj' will return and crimes like kidnappings and atrocities on women will rise, he warned.
Modi also attacked Bihar Chief Minister Nitish Kumar and RJD chief Lalu Prasad for not acting against the corrupt and cited recent examples where their MLAs and candidates were allegedly found taking bribe and "fixing deals".
Attacking leaders of the grand alliance, he said a JD(U) MLA and a candidate of Lalu Prasad's RJD had been caught red-handed taking bribe, but no action was taken against them.
"I want to ask these people, why are they silent on the issue of corruption after they were caught on camera taking bribe. Even before the polls, they are selling away Bihar and striking deals.
"Should Bihar be handed over to those who are out to sell it? Should Bihar be given to them? Should those who engage in corruption and protect the corrupt be allowed to form a government in Bihar?" he asked.
Hitting out at RJD chief Lalu Prasad, he said, "For them taking money is no big thing."
Modi said while the grand alliance leaders were fighting a battle to keep Bihar backward, he himself was fighting to take it forward. "It is for the voters to decide which way to go," he said.
He alleged Congress, RJD and JD(U) leadership "ruined" generations in Bihar during 60 years of their collective rule and termed the large crowds at his public rallies as "parivartan ka mela" (festival of change).
The Prime Minister, while urging people to vote for the BJP-led NDA alliance, said "We have to end this game (corruption) from Bihar and that is why I have come here to ask you for the victory of BJP and its allies."
Insisting that development should top the agenda in Bihar polls, Modi said, if voted to power, the NDA will ensure that Bihar progresses and moves forward.
Describing the ongoing elections as a "festival of change", Modi said, "I can see a change coming...November 8 (the day of counting) will mark the end of the 25 years of misrule in Bihar," he said.
Taking a dig at Nitish Kumar for his promise of providing computers to the youth, Modi wondered how they will function in the absence of electricity.
Moreover, he said the computers have contracted the "Lalu virus" resulting in "lawlessness", with crimes like atrocities on women and kidnappings on the rise.
"Your (Nitish's) computers have 'Lalu virus' which is venting out 'Jungle raj', crime, atrocities on women and kindappings. That is why Bihar's youth do not want this Lalu virus-hit computers as they do not want lawlessness and crime to rise," he said.
Modi claimed the large crowds at NDA rallies have left the grand alliance worried and its leaders were now trying to "defame" him and taking to 'mantra' and 'tantra' (occultism).
Addressing a rally in Siwan, he said while he has pledged to take Bihar forward and is working to bring about a change, his rivals do not have faith in either the people or democracy.
"You tell me, Bihar needs 'mantra, tantra' or 'Loktantra' (democracy). Will this 18th century thought benefit Bihar? Do people of Bihar need 'tabeez' (amulets)? Bihar's youth needs employment and progress," he said.
"When public is not with them, they have taken to 'jantar mantar'. You tell me whether a tantrik will help change your minds with 'pooja-path' (religious rituals). Is this not your insult? It is an insult to democracy," he said.  On the "bade bhai, chhote bhai" governments of Lalu Prasad and Nitish Kumar, he said, while the former brought 'jungle raj' along with 'TV's comedy show and entertainment', the latter carried with him "arrogance", which he "is not ready to shed".
"He is so full of arrogance that if he is asked to choose between what is good for Bihar and his arrogance, he will choose thelatter.
It is this arrogance of his which is Bihar's biggest problem and will sink entire Bihar," he said, asking public to show them their place now.  
Modi also questioned JD(U) and RJD for opposing the Women's reservation bill in Parliament and asked Sonia Gandhi why she had aligned with such leaders.