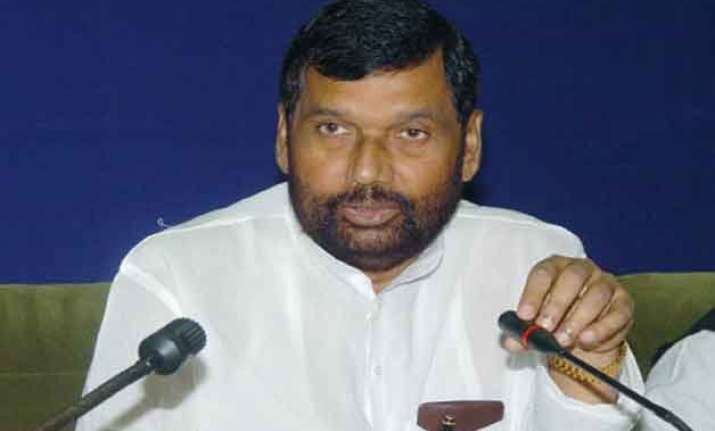 New Delhi: "Existing laws regarding conversion are sufficient," Union minister Ram Vilas Paswan today said even as BJP has been pushing for an anti-conversion bill in the wake of controversies triggered by some Hindutva groups.
Paswan, national president of key NDA ally LJP, at the same time made a strong defence of the government over the conversion row, asserting that neither Prime Minister Narendra Modi nor his government ever engaged in such issues after coming to power last May.
The Union Consumer Affairs Minister, who hails from Bihar and had participated in Janata Dal coalition government led by late V P Singh government, also dismissed the coming together of Samajwadi Party, Janata Dal United, RJD, JDS and other splinter groups of Janata Parivar and compared it with "snakes and scorpions coming together in a flood situation".
To a specific question as to what is LJP's stand on conversion and whether it favours bringing an anti-conversion law, he said that according to Article 25, everybody has a right of free profession, practice and propagation of religion and there are also provisions to check conversion by coercion and allurement if any.
"LJP's stand is that the existing laws in this matter are sufficient... Government also says the same thing. As long as there is no consensus, it will not bring it (anti-conversion law). Our party's view is that the existing law and sections in law are very clear about it," Paswan told reporters.
He was responding to a volley of questions on the conversion issue.
Paswan, who was a minister in UPA I government between 2004 and 2009, switched over to the NDA just ahead of Lok Sabha polls last year.
Responding to questions about controversial statements on conversion and others being made by some people in BJP and its sister organisations, he said, "Those, who are talking about it are not government. Neither the government is saying any such thing nor Prime Minister Modi talked about issues like Ram Temple, Article 370, Ghar wapasi or conversion."
"The Prime Minister had in fact expressed annoyance when a leader of his party (Union minister Sadhvi Niranjan Jyoti) had said something and asked his party leaders not to dilute the agenda of the government. Government's agenda is development, which we are following," Paswan said.
He also questioned the "secular pitch" of Congress and other parties saying why did they not support his demand for a Muslim Chief Minister in Bihar after the fractured mandate of February 2005 state assembly elections.
Claiming that there is a "scramble" among them to partake in the existing 16 per cent Muslim votes in the country, he said, "Congress, Nitish Kumar, Mulayam Singh Yadav, Lalu Prasad all are presenting their claims. Now even Owaisi sahab (MIM chief Asaduddin Owaisi) has come. This creates division in the society."
He said he too wants to get votes of Muslims, "but not by pitting them against other communities".
Dismissing the attempts by Janata Parivar splinter groups to come under one umbrella, he said, "This grand alliance is not going to be a reality. The real test will come when a decision will be taken as who will head it. I was part of the late V P Singh government and I know all of them."
Paswan, however, felt that JD(U) of Nitish Kumar and RJD of Lalu Prasad will come together as Kumar "fell from top to bottom" the day he parted ways with BJP in Bihar.
He also accused the JD(U) leader of keeping off Paswan from a newly-created Mahadalit category among Scheduled Castes "just to eat into his vote base" and took a jibe over recent controversial statements of Chief Minister Jitan Ram Manjhi.
Sharing the dais with hi, LJP Secretary General Abdul Khaliq defended his stand of not seeking reservation for Muslims and said this does not benefit the community and only ends up creating an anger and aversion of others towards them as jobs are few and most of the posts remain unfulfilled.