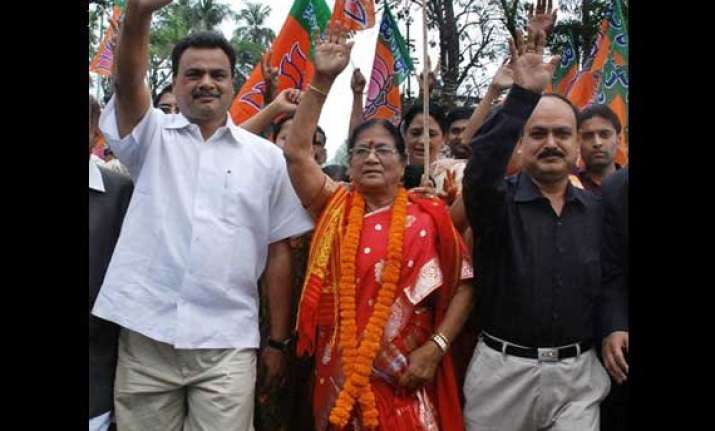 Guwahati: The Bharatiya Janata Party (BJP) on Wednesday demanded an enquiry into allegations that Assam's All India United Democratic Front (AIUDF) had links with Bangladeshi jihadi elements.
"It is reported in one of the national TV channels that IB has found links between AIUDF and jihadis. If this is true, then it is a serious matter," senior BJP leader and Lok Sabha MP Bijoya Chakravarty told reporters here.
It is also reported that AIUDF has sent youths from Assam to Bangladesh for training, she added.
Chakravarty, however, said that she did not think that AIUDF President Badruddin Ajmal, who is also the chief of Assam State Jamiat Ulema-e-Hind, has done such a thing.
"I personally do not think that Ajmal has done such a serious thing. I am not sure. That is why the entire issue should be enquired and the government should take action accordingly," she added.
The BJP leader also accused the Congress for allowing jihadis to grow in the state.
Around 5-6 years ago, the Central Home Ministry had got a report about a possible link between AIUDF and jihadis. But the Manmohan Singh government at the centre and the Tarun Gogoi government in the state did nothing about it for fear of losing Muslim votes, she said.
"The jihadis could spread the network in Assam because of greed for power by the Congress. Assam is being used as a safe corridor for supplying arms and Bangladeshi citizens to the entire country," she said.
Last week, state Chief Minister Tarun Gogoi had said the government had proof of jihadi groups being active in Assam. Referring to the Jamaat-ul Mujahideen of Bangladesh (JMB), Gogoi said it was suspected that al-Qaeda had links with them and the government would identify and punish them.
"There is no politics behind it. It is a matter of national interest. I can assure everyone that no innocent people will be arrested in the name of religion," he had said.