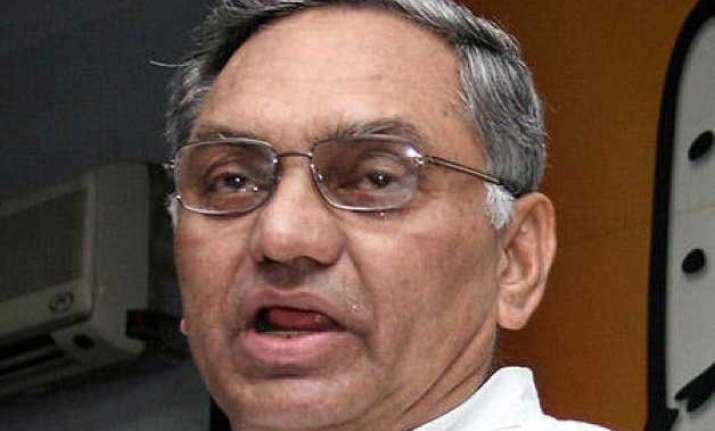 New Delhi: Senior Congress leader Janardan Dwivedi, who had praised Prime Minister Narendra Modi, today faced public rebuke by his party but he appeared to have escaped any action with the organisation saying the matter is over after his explanation.
The senior most General Secretary of the Congress, while insisting that he never praised Modi or said he "is a symbol of Indian-ness", met chief of party's Disciplinary Committee A K Antony in the evening to explain his position.
After the meeting, there were indications that there would be no disciplinary action against the 69-year-old leader as he possibly convinced the top leadership that he was "misquoted" which he also claimed at a press conference.
"What Dwivedi has said was wrongly reported and it was misinterpreted and Dwivedi himself has given explanation to that and that is end of the matter," Congress spokesperson P C Chacko told reporters.
"Dwivedi's statement was misinterpretated and wrongly reported so he has given explanation on that that is the final word," Chako said.
Earlier in the day, Congress General Secretary Ajay Maken, known to be close to Rahul Gandhi, slammed Dwivedi at a hurriedly called press conference.
"What Dwivedi has said is totally opposite to the Congress' idea of Indian-ness....The victory of Modi can by no stretch be the victory of Indian-ness," Maken said if one saw the seven-month rule of Modi as the Prime Minister and the 2002 riots in Gujarat where he was the Chief Minister, he could "never become the symbol of that Indian-ness."
Dwivedi, one of the close associates of party Chief Sonia Gandhi, contended that he had not praised Modi and he was being misquoted.
"I have never said Modi is a symbol of Indian-ness..... There is no need for anyone to teach me what is .. Indian-ness," a visibly hurt Dwivedi remarked soon after Maken's press conference.
BJP lapped up the controversy with Union Minister Nirmala Sitharaman attacking Congress for criticizing its own veteran leader"s "praise" of Modi. She alleged the opposition party was riddled with internal rifts and lack of inner democracy.