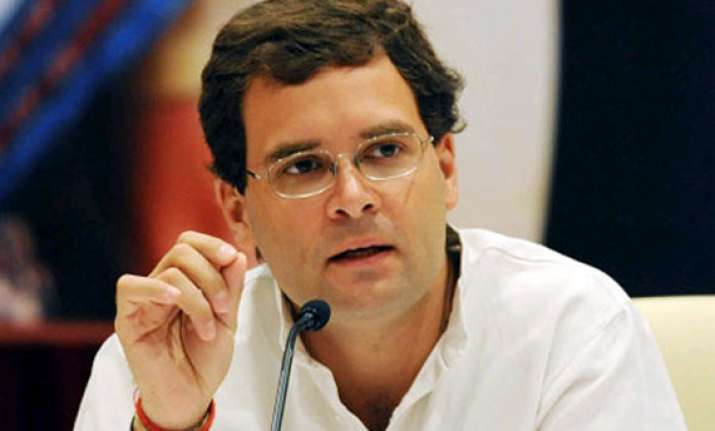 New Delhi, Dec 15: The UPA government's direct cash transfer scheme - "aap ka paisa, aap ke haath" - will bring about a systemic change in the social welfare delivery system, Congress general secretary Rahul Gandhi told party leaders Friday.
"He said that the cash transfer plan is not only a scheme but a fundamental transformation of the delivery system," Rural Development Minister Jairam Ramesh told reporters.
According to Ramesh, Gandhi said just like the telecom revolution was backed by the public call offices, the cash transfer scheme will redefine the delivery system.
"Mobile phone revolution is the most democratic institution in our country," Gandhi told the party leaders.
The meeting was attended by around 170 persons, including district Congress chiefs of 51 districts where the scheme would be launched Jan 1, 2013.
Members of the Youth Congress and chiefs of state units also attended the meeting, which was addressed by Rahul Gandhi, Finance Minister P. Chidambaram, Jairam Ramesh and party general secretary Janardan Dwivedi.
Dwivedi said Rahul Gandhi would travel to some of the districts whwere the direct cash transfer scheme is to be launched initially.
According to Ramesh, to begin with only student scholarships, old age and widow pensions, and honorariums to village women workers and wage payments in MGNREGS would be given through the scheme, which will be implemented using the Aadhaar cards being given by the Unique Identification Authority of India.
Rahul Gandhi urged the local party leaders to assist the government staff in implementing the scheme and educate the people about its benefits.
"The meeting was an attempt to ensure that the party and the government work unitedly in popularising the scheme," Dwivedi said.
Ramesh said the issues related to the opening of bank accounts, payment of MGNREGS wages, and BPL cards raised by local Congress leaders would be addressed.
Interestingly, while Ramesh said "aap ka paisa, aap ke haath" would be the political slogan ahead of the next Lok Sabha general elections, Dwivedi quickly corrected him, saying it was merely a slogan for social welfare.