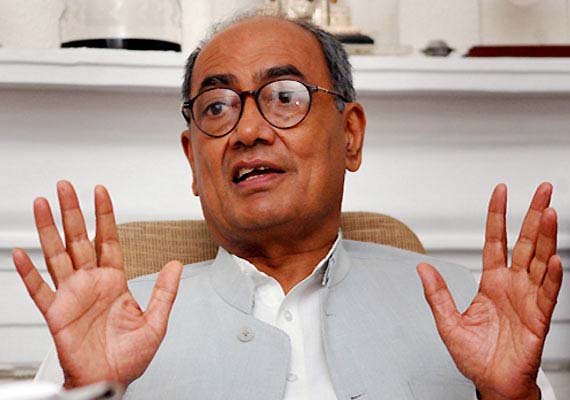 New Delhi: Congress leader Digvijay Singh on Thursday attacked the Shiv Sena over its 'eagerness' to join the BJP in forming government in Maharashtra, through his twitter handle.
"Shiv Sena on its knees to be inducted in the Cabinet! Where is the Maharashtrian Pride which they talk of?" tweeted Digvijay Singh.
The Shiv Sena will today take a final call on whether it will join BJP govt in Maharashtra or not.
Singh also took a dig at celebrities and governments participating in the Swach Bharat Abhiyan.
'Swatch Bharat Abhiyan a great photo opportunity to all in Govt and Glamour. But is that all? Would they pl do some thing more constructive?' he tweeted.
Singh, a veteran Congress leader is known to actively use his twitter handle as mouthpiece to target the incumbent government on its role and functioning.
Few days back, he criticized the Modi government for wrongly taking credit of policies formulated during UPA's rule.
He had taken jibe at Prime Minister Narendra Modi over his remarks on 'one rank one pension' alleging that he was "appropriating credit" for the steps taken by UPA.
"Now Modi takes credit for 'One Rank One Pension' for Defence Personnel !Deserves full credit for appropriating Credit of what others have done.
"Decision of One Rank One Pension for Defence Personnel was taken 2 years back by UPA Govt, funds provided in the Budget and he takes Credit! (sic)," Singh said on Twitter.