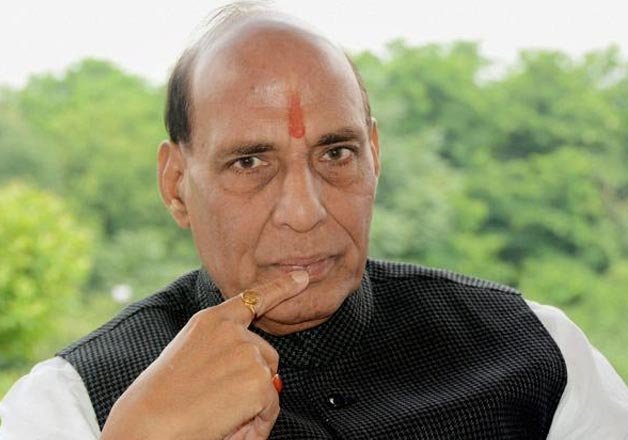 New Delhi: A day after Home Minister Rajnath Singh said that protest at JNU had backing of LeT chief Hafiz Saeed, the principal opposition party, Congress, today accused the Union Minister of 'communalising' the issue and demanded that Prime Minister Narendra Modi should ask his Pakistani counterpart to arrest the Lashkar chief for plotting terror attacks in India.
"Rajnath communalising JNU atrocity at pulpit of pulp patriotism. Tell PM's biryani friend Nawaz Sharif arrest Hafiz Saeed for terror attacks," senior Congress Leader Manish Tewari said in a tweet today.
Rajnath Singh had yesterday claimed that the event on JNU campus in Delhi against the hanging of Parliament attack convict Afzal Guru had received 'support' from Saeed, a statement that sparked a political row with opposition parties asking him to provide evidence.
On Saturday, a post on an alleged "fake" account @Hafeez SaeedJUD - along with the name Hafeez Muhamad Saeed - invited JNU students to Pakistan, "to continue their Pro-Kashmiri, Anti-India Propaganda in our Universities".
"The incident (Afzal event) at JNU has received support from Hafiz Saeed. This is a truth that the nation needs to understand," Singh had said, adding, "what has happened is very unfortunate."
Later, a Home Ministry spokesperson said that Singh's statement was "based on the inputs available from different agencies."
Meanwhile, Congress general secretary Digvijay Singh sought to know from the government which agency had given inputs to the government on the issue.
"Would Home Minister please clarify on which Agency's input did he make a statement of JNU's connection with Hafiz Saeed ?" Singh said in a tweet.
Another Congress leader PL Punia suggested Rajnath to be careful while making remarks on such issues and demanded proof.
"What he says holds immense value and without any evidence or proof, he must not make such an irresponsible statement that JNU students' protests are being backed by Hafiz Saeed," Punia said.
Rajnath relies on fake Twitter IDs: Prakash Karat
CPI-M leader Prakash Karat on Monday took pot-shots at Rajnath Singh for saying Hafiz Saeed backed the Afzal Guru event at the Jawaharlal Nehru University campus here.
"The Home Minister relies on a fake Twitter handle for information," Karat, who visited the campus on Monday, told the media.
The Communist Party of India-Marxist leader said: "We don't accept their (central government's) definition and version of nationalism. If they call us anti-national, we wear it as a badge of honour."
Karat also said that by filing "cases against elected student leaders under sedition charge", the government was "declaring war" against them.