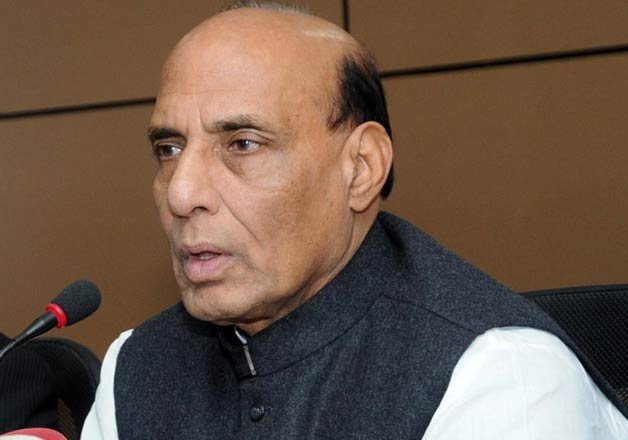 New Delhi: Union Home Minister Rajnath Singh on Sunday said that the programme at Jawaharlal Nehru University where 'anti-national' slogans were allegedly raised during an event for parliament attack convict Afzal Guru,  had the full backing of LeT chief Hafiz Saeed.
"What happened at JNU was fully supported by Lashkar chief Hafiz Saeed. I appeal all political parties that whenever such situations arise where anti-India slogans are raised, the entire nation must speak in one voice," Rajnath Singh said.
Speaking at a press conference in the national capital, Singh said his government would not spare anyone who dares to raise anti-national slogans.
"Have given clear instructions that strict action must be taken against anyone who's found guilty, but innocent people must not be harassed," Singh said.
The local police have already sought a transfer of the case to the Special Branch, saying it is a matter of sedition and terror links could emerge.
The Delhi Government has already ordered a majesterial inquiry into the case, with Chief Minister Arvind Kejriwal tweeting, "There are claims that JNU student leaders shouted anti-India slogans and counter claims that ABVP activists did it... To find truth, Del govt is directing DM to conduct an enquiry."
Rajnath's remarks based on agencies' inputs: MHA
Rajnath Singh's statement that the JNU event had received 'support' from terror outfit LeT founder Hafiz Saeed was based on inputs from 'different agencies', a Home Ministry spokesperson said.
"Statement of the Home Minister is based on the inputs available from different agencies," a Home Ministry spokesperson said without elaborating.
Meanwhile, Rajnath's deputy, Kiren Rijiu has said that 'it is a tragedy for India that some politicians and intellectuals are supporting elements propagating anti-India sentiments'.
In a Facebook post, Rijiju said, "Freedom of expression is not absolute and unqualified and it cannot be at expense of national interest."
The Minister said that he was deeply hurt by the anti-India slogans raised by some students at JNU campus. He also advised such people to stay in border states like Arunachal Pradesh and learn patriotism from villagers.
Video: