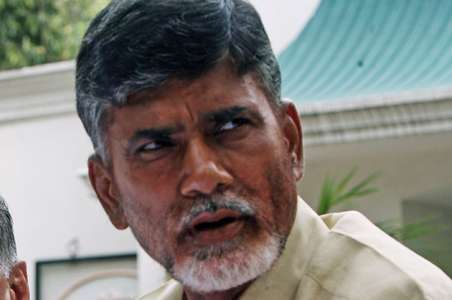 Hyderabad, Nov 11:  TDP President N Chandrababu Naidu today demanded dismissal of Telecom Minister A Raja from the Union Council of Ministers forthwith for his involvement in the Rs 1.76 lakh-crore 2G spectrum scandal and wondered why the Prime Minister has chosen to remain silent on the issue.
Addressing a press conference at the TDP headquarters here this afternoon, Chandrababu also demanded that the Centre immediately constitute a Joint Parliamentary Committee to probe the 2G spectrum scandal and criminal prosecution be launched against those involved in it.
"A scandal of this proportion is not only mind-boggling but also too scaring even to think of. Prime Minister Manmohan Singh's 'silence and inaction' on corruption is becoming a curse for the country," the former AP Chief Minister noted.
"Why is the Prime Minister not acting against Raja even after the Supreme Court questioned his continuance in the Union Cabinet," he asked.
Chandrababu held AICC President
Sonia Gandhi
responsible for the "unbridled corruption" under the UPA regime and demanded an explanation from her on the issue.
"Holding the remote control, Sonia appointed 'dummies' in key positions who are not acting against corrupt elements. So far there has been no firm demonstrative action against the corrupt elements as they seemed to have taken corruption for granted," he lashed out.
The Rs 10,000 crore Indian Premier League scandal was given a quiet burial after the resignation of
Shashi Tharoor
from the Union Cabinet, he alleged.
The Commonwealth Games scandal too met with the same fate after Suresh Kalmadi was removed as Congress Parliamentary Party secretary. No further action was taken in the Adarsh Society housing scandal after Maharashtra Chief Minister was forced to quit, the TDP chief noted.
"The Bofors scandal shook the entire nation though the amount involved was only Rs 67 crore. Now, when public money amounting to Rs 1.76 lakh-crore was plundered, the Government of India remains silent," he lamented and called for a national debate on corruption. PTI