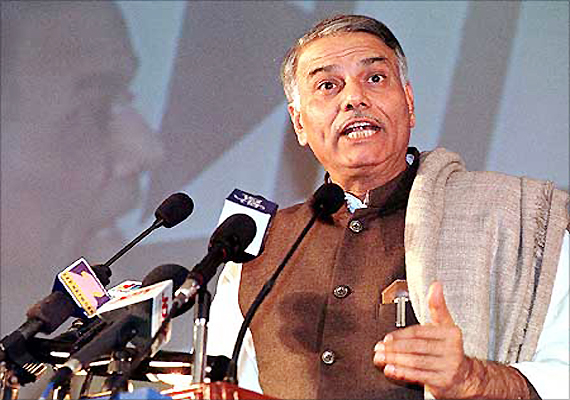 New Delhi, Mar 16: BJP today described the budget as a mere "accounting statement" sans the big picture which fails to lift the sentiment with regard to the country's "troubled" economy and rued that the Finance Minister has wasted an opportunity to take effective measures to uplift it.

"The Indian economy is passing through challenging times. The sentiment with regard to the economy is low... The Finance Minister wasted a historic opportunity by presenting a non-Budget. His budget is an accounting statement but not a policy enhancing document. It fails to lift the sentiment of the economy," BJP leader and former Finance Minister Yashwant Sinha said.

Addressing a press conference, Sinha insisted that the economy today is in as grim a situation as it was in 1991 when Manmohan Singh had presented his budget as Finance Minister.

But this time the government has chosen a "retrograde method" of "high dose of taxes" to meet the fiscal deficit.

The main opposition further claimed that the Fiscal Deficit figure of 5.9 for 2011-12 was an underestimation and an example of "financial engineering" of the subsidy figure and cautioned that the final figures may be more disturbing.

"The Finance Minister had an opportunity to take steps to enhance economic activity, increase the size and volume of Indian economy, raise higher revenues from higher economic activities and correct the fiscal deficit but has failed to take corrective steps," Sinha said.

BJP charged that the tax increase in this budget is unprecedented in recent history.

The BJP MP maintained that this is a "tax and spend" budget and that the government plans to borrow heavily to meet its expenses.

"There is absolutely nothing in the budget which would give hope of meeting the challenges ahead... Excise duty and services tax have been increased by two per cent and the rebate in the Direct taxes is most minimal," Sinha said.

BJP said the Finance Minister has imposed a higher dose of Indirect Taxes at Rs 45,940 Crores and expects a total collection of Rs 1,75,803 crore is taxes.

"The next year fiscal deficit, despite such anticipated collections, will still be at a monstrous 5.1 per cent. Even this is based on a premise that subsidies are reducing by Rs 26,000 crore. This is notwithstanding that the Food Security Act may come into force," Sinha said.

He maintained that there is no "worthwhile mention of economic reforms in the minister's speech and charged that the government has no intentions of embarking on that course.

"There is nothing in the budget on meeting the challenges of fiscal deficit, inflation, hike in interest rates, plans for growth of the economy, or for providing a better quality of life to the urban and rural poor," he said.

BJP further alleged that the government only wants to pay lip service to infrastructure development and enhancing the power situation. It has also not made any mention of the tourism and other sectors.