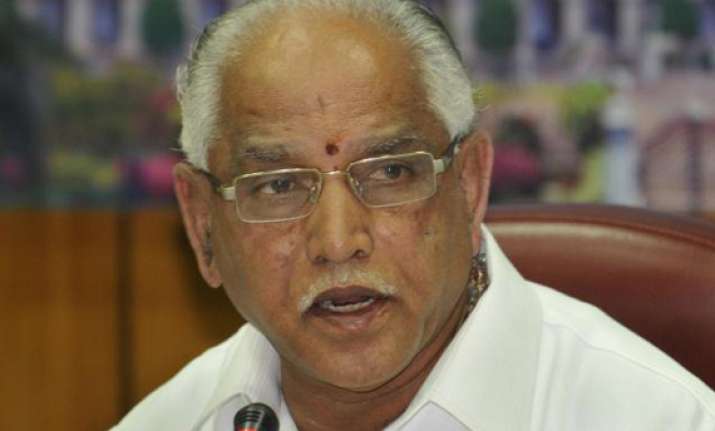 Bangalore, Dec 25: As BJP continued to crack down on his supporters in the ruling dispensation, Karnataka Janata Paksha (KJP) President B S Yeddyurappa today threatened retaliation, hinting that he is no longer keen on survival of the Jagadish Shettar Government in the state.  
The BJP Government, late last evening, removed two Yeddyurappa loyalists from their posts in state-run bodies.
Captain Ganesh Karnik was stripped of the post ofVice-Chairman of Non-Resident Indian Committee and M Rudresh of chairmanship of the Kanteerava Studios Limited.  Party sources today said more Yeddyurappa loyalists would be removed from key positions in state-run boards and corporations, which are held by political appointees.
They said that 16 BJP MLAs and MLCs would replace them.  
Speaking to reporters in Mysore, Yeddyurappa noted that most of his supporters have been dropped from boards and corporations and also recalled that his loyalist B J Puttaswamy had been sacked from the Ministry and Tumkur Lok Sabha member G S Basavaraj suspended from the party earlier.  
"After seeing all this, we will discuss with prominent leaders in the party (KJP) in 8-10 days and decide what we should do. My mind says this government should not continue even for a moment as it has lost majority," he said.  
As many as 14 BJP MLAs associated themselves with Yeddyurappa at a rally in Haveri earlier this month when the former chief minister formally launched the KJP.  
"We will bring it to the notice of the Governor (that the Government has lost majority). When the government has lost majority and is not interested to run the administration with the support of our supporters, the only option left before the Chief Minister is to dissolve the House and seek fresh mandate," the former chief minister said.  
"I wish to tell the chief minister that you don't have majority. Dissolve the Assembly and let's face elections," Yeddyurappa said.
He said the state government has lost the moral right to continue in office. People feel that since action is being taken against supporters of the BJP Government, the support (by KJP) to the Government should not be continued, he added.