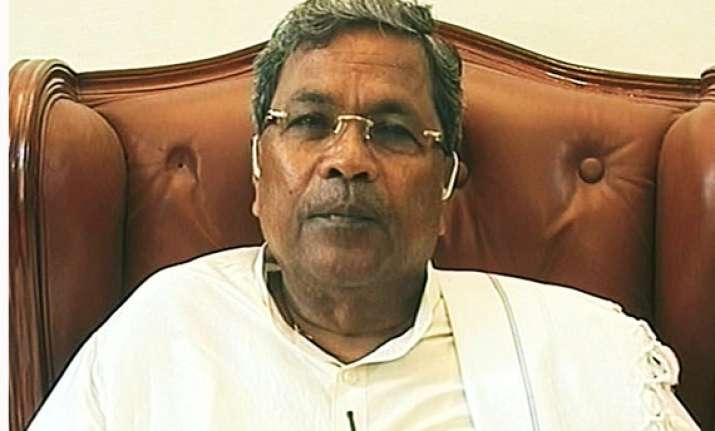 Bangalore: The ruling Congress in Karnataka is looking for a big win from a sharply bipolar race in the state in an outcome that could also have a bearing on Chief Minister Siddaramaiah's standing within the party.
Exit polls on Karnataka have projected conflicting trends, some giving anxiety and others hopes both for the Congress and BJP, the principal opposition which is gung ho about a comeback after losing its first ever government in the South in the May Assembly polls last year.
It is a high-stake election for Siddaramaiah for whom the party should reach the respectable tally of at least 15 of the 28 Lok Sabha seats for him to continue to have a trouble-free power ride for some more time to come.
Siddaramaiah has been dismissive about exit poll numbers some of which have given a clear edge to BJP while some others for his party. In the 2009 polls, BJP bagged 19 seats, Congress six and JDS 3. Two subsequent by-polls saw the Congress increase its tally to eight at the expense of JDS.
"Which one should I believe", the Chief Minister has wondered, even as he hopes that some of the flagship populist schemes of his government such as providing rice at Re 1 a kg to the poor would help shore up the numbers.
On the other side, BJP already appears to be euphoric that it would see a turnaround in its fortunes after the bitter Assembly polls debacle and more or less replicate the last Lok Sabha poll success.
Three out of four exit polls forecast that the BJP would come up trumps in Karnataka with two surveys even projecting 18 seats for it and the other two upto 14. One survey has forecast a maximum of 16 seats for the Congress while the lowest projected tally is seven.
A resurgent BJP believes that the pendulum has swung in their favour with the big push given by the Modi factor. It also reckons that the return of its Lingayat strongman B S Yeddyurappa has brought back the votes it had lost.
On his part, Siddaramaiah has repeatedly dismissed speculation about any specific number having been set as a target for him by the party top brass.
Reflecting the burden cast on his shoulders, Siddaramaiah has led the Congress offensive vigorously to put up a good show that would help him maintain his hold over power and scotch any attempt by his silent detractors within the party to target his leadership.
Among the keenly watched battles is Bangalore South, where Infosys co-founder and face of "Aadhar" programme Nandan Nilekani has given a run for the money to his formidable opponent Ananth Kumar (BJP), who is aiming for a sixth win in a constituency that, barring once has been impregnable to the Congress since the 1970s.
Union Ministers Mallikarjuna Kharge (Gulbarga) and M Veerappa Moily (Chikkaballapur), former Prime Minister and JDS chief H D Deve Gowda (Hassan) and B S Yeddyurappa (Shimoga) are other prominent contestants.