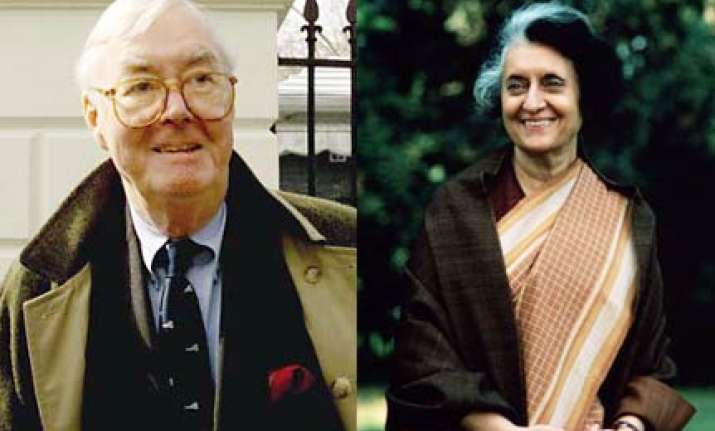 Washington/New Delhi, Oct 11: An allegation that the Congress party took money from the United States during the Indira Gandhi era has been made in a book to be released tomorrow, but the party dismissed the charge as "unsubstantiated and malicious".  
The allegation is contained in the book which is a collection of personal letters and journal entries of former US Senator and Ambassador to India, late Daniel Patrick Moynihan.  It is edited by Steven R Weisman, public policy fellow at Washington-based Peterson Institute.  
Moynihan, who was Washington's envoy to India during the crucial years of 1973 to 1975, refers to the then US Secretary of State Henry Kissinger's meeting with Prime Minister Indira  Gandhi on October 28, 1974 in New Delhi.  
In his journal entry, the Ambassador says Kissinger had met the Indian leader alone, except for a few moments when her Principal Secretary P.N. Dhar was present. "What exactly went on I shall never know, but evidently it went well enough...", he writes.  
Moynihan nevertheless records that Gandhi began by saying that she assumed that Kissinger wanted to talk about the nuclear explosion conducted by India in May of that year. "He (Kissinger) said yes, he wanted to talk about the bomb. India had one now...its interest is now to see that others do not get one."  
"Turning to CIA he (Kissinger) said that the United States supported the Congress party. (A fact she must know, in the past having taken our money. He would know that she would know that he would know this)," he writes in the entry.  
It is not clear from the book titled "Daniel Patrick Moynihan; A Portrait in Letter of an American Visionary" what is the basis of the Ambassador's account of the Gandhi-Kissinger meeting since he himself records that he was not present.  At one point he uses  the expression "if I surmise correctly" about the exchanges between the two leaders.  
Asked about the allegation, Congress spokesman Manish Tiwari said in New Delhi, "36 years later if somebody decides to write a book, which contains unsubstantiated, derogatory and malicious inferences we will not not like to dignify it with a comment."
Two months later, Moynihan wrote in a letter to Dhar that the United States saw its interest lying in the success and continuance of the "present" Indian regime.  
Recollecting that there was a time when US support to the Indian regime was quite concrete, which did not exist since 1966, he said in the letter that "Nevertheless, we still support the Congress Party in more general way as any careful examination of our policies would demonstrate."  
Moynihan said "In the most generalised sense, we wish them well also. But we recognise that the Congress Party has been and continues to be the government of the Republic of India.  
"A consequence of this is that the United States has never sought any internal political influence in India in return for external aid. The success of an independent, democratic India is all that we have hoped for."  
The letter to Dhar came  two days before he gave his farewell press conference in New Delhi on December 22, 1974.  
A month after arriving in New Delhi as the US Ambassador to India, Moynihan in a letter to President Nixon, was very critical of the socialist policies of Indira Gandhi.  
"She (Gandhi) is primarily a political animal, and carry-over of this leftist, 'anti-colonial' political culture into present day India is such that anti-American remarks become an all-purpose means of affirming one s loyalty to the socialist and egalitarian principles of the Indian constitution, a kind of loyalty oath which Brahmins doubtless find it politic to subscribe to from time to time, Moynihan wrote in his personal letter to the then US President, Richard Nixon. PTI