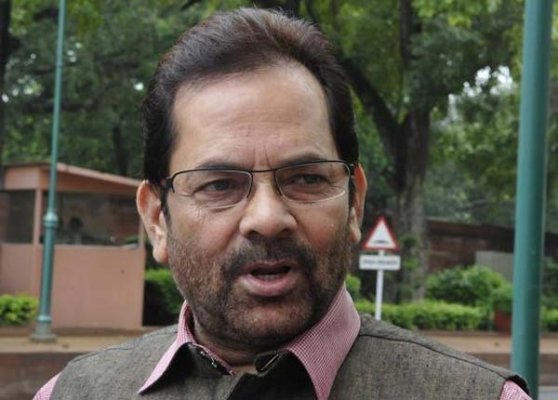 Kolkata: A central BJP delegation led by party vice president Mukhtar Abbas Naqvi was taken into preventive custody and whisked away by police from the outskirts of Makhra village where the administration has clamped prohibitory orders following a clash on Monday that claimed three lives.
An angry BJP claimed West Bengal has turned into a 'safe haven for anarchists and terrorists', and said the situation in the state was 'very worrisome'.
Naqvi said: "The attitude of police is undemocratic and more aimed at shielding the anarchists and terrorists, who have made Bengal their safe haven. It would have been better had the Trinamool spent its energy in apprehending the anti-nationals than preventing and arresting us."
Expressing concern over the 'pitiable condition' of the people of the village, Naqvi said the team in its report will apprise the Centre about the 'worrisome' condition in West Bengal.
"The way anarchists and terrorists have made Bengal their safe haven, it is amply clear that the situation in Bengal is bad and worrisome. The way people are being killed, houses are burnt and the culprits are roaming scot free, it is evident that this government has been a failure," he said.
"In our report we will apprise the Centre about the situation in Bengal where the government is more concerned with preventing the opposition from entering Bengal than taking care of the people whose condition has been deteriorating and has become pitiable," added Naqvi.
Naqvi, party MPs Kirti Azad and Udit Raj, and BJP state unit president Rahul Sinha along with other state leaders and activists were taken away in a police van from the spot.
There was also shoving and pushing between the leaders and police following attempts to break barriers and enter the village.
The state government, earlier in the day, faxed a letter to the state BJP leadership, informing them about the prohibitory orders and urging them to 'plan the visit accordingly'.
"Prohibitory orders are violated when five or more people assemble, but despite our repeated requests to allow even two persons, the police did not pay heed and instead pushed and shoved and even arrested us," said Sinha.
Sinha and Azad claimed that the administrative action was aimed at hiding the pitiable condition of the villagers as well as the Trinamool's anarchy.
"These attempts by the Trinamool to prevent the opposition are indicative of the fact that they have many things to hide," said Sinha.
The administration Wednesday too prevented delegations of the BJP, the Congress and the Left Front from visiting the area.
This is the third time a central BJP team is visiting Bengal. Following attacks on its workers, the party's central teams visited Sandeshkhali in North 24-Parganas and Ilambazar in Birbhum district earlier in the year.
Naqvi, who had led the Sandeshkhali delegation, in his report submitted to the party leadership in June accused the Trinamool of 'patronising and harbouring Bangladeshi fundamentalists'.