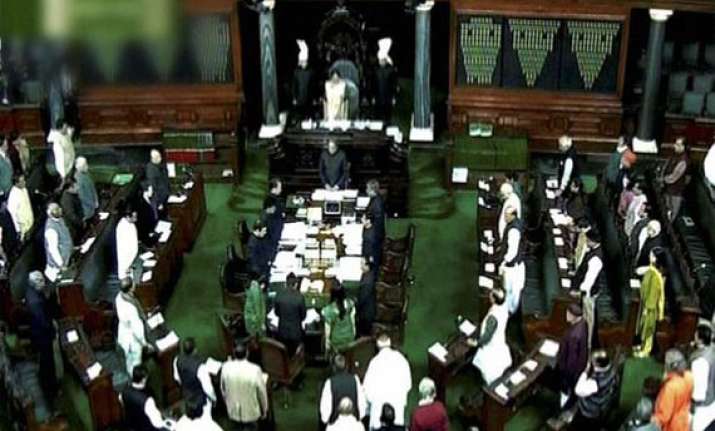 New Delhi, Dec 13: Lok Sabha today witnessed repeated uproar on the demand for immediate hanging of Afzal Guru, with Speaker Meira Kumar expressing anguish over disruptions saying 13 people did not lay down their lives for this during the attack on Parliament 11 years back.
Soon after the House paid homage to martyrs of the 2001 attack, BJP members led by Shahnawaz Hussain started raising slogans demanding immediate hanging of Guru.
BJP and Shiv Sena members trooped to the Well shouting slogans 'Afzal Guru ko phaansi do' (hang Afzal Guru).
"Why is the government not hanging Afzal Guru. Why is the government helpless in carrying out the death sentence," Hussain asked.
Amid the melee, BSP members also rushed to the Well raising the issue of coal block allocation.
As the uproar continued, an anguished Speaker remarked, "11 years ago, on this day, 13 people had sacrificed their lives. They did not sacrifice their lives for this. I will not adjourn the House."
The Speaker went ahead with the Question Hour despite the uproar and Rural Development Minister Jairam Ramesh answered supplementaries on the rural jobs scheme.
SP members were also seen in the Well demanding action against the agitating BSP members.
Amid the uproar, the Speaker first adjourned the House till 11:30 AM and then till noon. The House met briefly at noon and was adjourned till 2 PM after laying of papers.
Soon after the Rajya Sabha paid homage to the martyrs of Parliament attack, BJP members led by M Venkaiah Naidu sought a response from the government on hanging of Afzal Guru.  Naidu said the Home Minister should come to the House and explain the position.
Chairman Hamid Ansari said the issue can be taken up later and the Question Hour should be allowed to proceed.
Earlier, when the Upper House met, Ansari said today was the 11th anniversary of the dastardly attack on Parliament by terrorists.
He recalled the supreme sacrifice by security persons in preventing the attract and condemned the incident saying such acts firm up the resolve to fight against terrorist with determination.