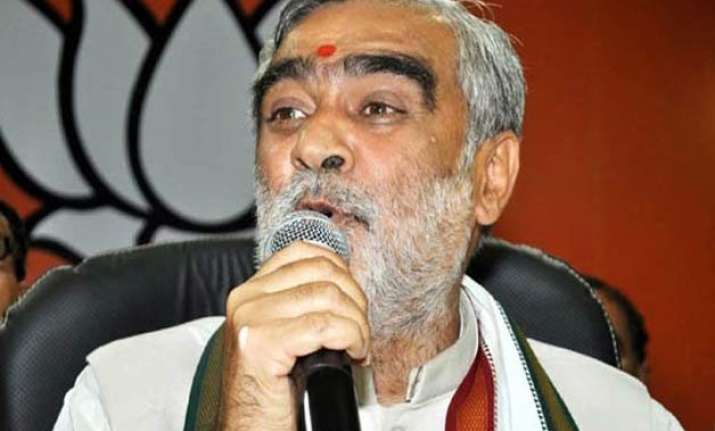 Lucknow: The Bharatiya Janata Party (BJP) here on Tuesday slammed Akhilesh Yadav-led Uttar Pradesh government over the burning of a woman in a police station, and demanded that he shed the home portfolio over the incident.
Alleging 'jungle raaj', a team of Bharatiya Janata Party legislators which visited Barabanki to probe the burning of a woman inside a police station, told reporters that the incident proved rule of law does not exist in the Samajwadi Party-ruled Uttar Pradesh.
BJP's MP from Bihar Ashwini Choubey, who was leading the team of parliamentarians Meenakshi Lekhi, Arjun Meghwal and M.J. Akbar, said the situation in the state was fast deteriorating and getting scary by every passing day.
"UP mein loot ki chhoot hai (It's a free lot for all in Uttar Pradesh)," said Chaubey, comparing Uttar Pradesh's law and order situation with that of Bihar in the 1990s when the Rashtriya Janata Dal's Lalu Prasad ruled the state. 
BJP leader Meenakshi Lekhi said her party would do everything within its power as an opposition party in the state to force the Akhilesh Yadav government to spruce up the law and order and ensure safety and security of the people of Uttar Pradesh.
BJP president Amit Shah set up the team on July 11 to visit Barabanki and probe the incident in which a woman, Neetu Dwivedi, was allegedly burnt alive inside a police station by two policemen after a failed rape attempt. 
The woman had gone to the police station to seek release of her husband, detained on suspicion of a crime. She died of her burn injuties later. 
The visiting BJP team on Tuesday also demanded an ex-gratia payment for the woman' family, probe by a high court judge and immediate arrest of the two policemen.