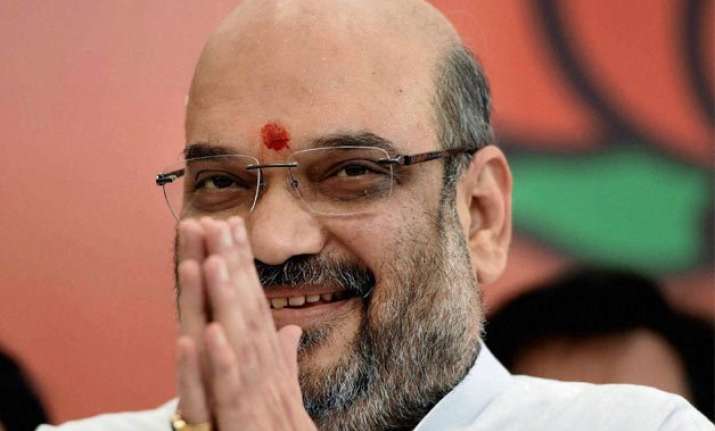 New Delhi: BJP has set its eyes on Bihar where assembly polls are due later this year with party chief Amit Shah terming the Nitish Kumar led government as "Jungle Raj -II".
After the unprecedented victory in the Assembly elections of some states in North India, BJP president Amit Shah has now set his target on Bihar.
In his opening speech at the party's national executive on Friday, Shah virtually spelt out the campaign line for the Bihar polls, the first challenge for BJP after the defeat in Delhi.
Shah termed as 'betrayal of the mandate' the break-up of the JD(U)-BJP alliance in Bihar in July 2013 after the coalition government had a successful run for one and half terms by dislodging the RJD regime.
"People had chosen the BJP-JD(U) alliance, but the JD(U) ditched the people's mandate by dumping BJP and jungle raj returned to the state," Union environment minister Prakash Javadekar quoted the BJP chief as having told the party delegates.
Throwing lights on the performance of the 11-month old BJP led NDA government, Mr Shah said: "We are changing the whole atmosphere thanks to good and transparent government. The ten years of UPA rule were marred by scams running into crores of rupees. Two former UPA ministers, Kapil Sibal and P. Chidambaram, claimed 'zero loss' when the then Opposition BJP put the 2G spectrum auction loss at Rs 1.86 lakh crore. Auctioning of only 20 coal blocks earned Rs 2 lakh crore for the national treasury, imagine the amount the government would earn after auctioning 200 coal blocks. The auctioning of other mines (non coal) would also be done soon in a transparent manner."
Shah's attempt was to paint Nitish Kumar with the same brush as Lalu Prasad on the back of the two coming together to rival BJP in the elections.