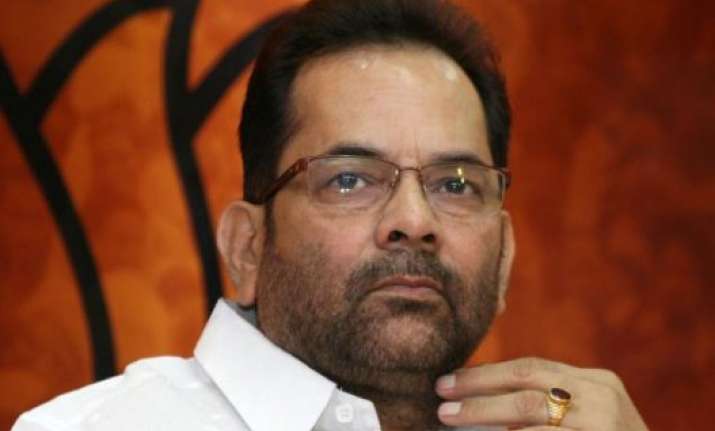 Rampur (UP): With Prime Minister Narendra Modi pledging to revive the radio culture, senior BJP leader Mukhtar Abbas Naqvi today advised the AIR programmers to move out of the studios and sit at village choupals amidst the rural folks to record their problems.
Naqvi was addressing a gathering on the occasion of Rampur Radio station's golden jubilee celebrations here.
"The entire network of All India Radio should delve deep into the problems of Indian villages and by doing that AIR would be able to translate into action the targets, dreams and visions of Prime Minister Narendra Modi," he said.
The BJP's national vice president mentioned that the Prime Minister has pledged to revive and renovate the radio culture, its shape, functioning and maximum utilisation in the best interest of the rural people.
He advised the programme producers to move out of the studios, sit at village choupals amidst the rural folks, record their problems related to the agriculture and financial activities and broadcast those in a sincere mode so that they may come nearer to radio, treating the institution's staff and officers as their guides.
Naqvi apprised the radio programmers to invest a judicious quantum of their time in understanding the rural music and cultural heritage which was prevalent but captivated within the boundaries of the villages.
He said "from the day one, the Prime Minister announced his intention to make radio pro-people and pro-villages and people have started bringing radio sets to their homes just to make themselves attached with Narendra Modi, his vision and welfare related programs".
Addressing the nation on AIR on October 3, Modi had urged people to share their thoughts with him in what may become a more regular conversation on Sundays at 11 a.m.
The Rajya Sabha MP also adopted village Manpur of Bilaspur tehsil in Rampur district under the Saansad Gram Vikas Yojna.