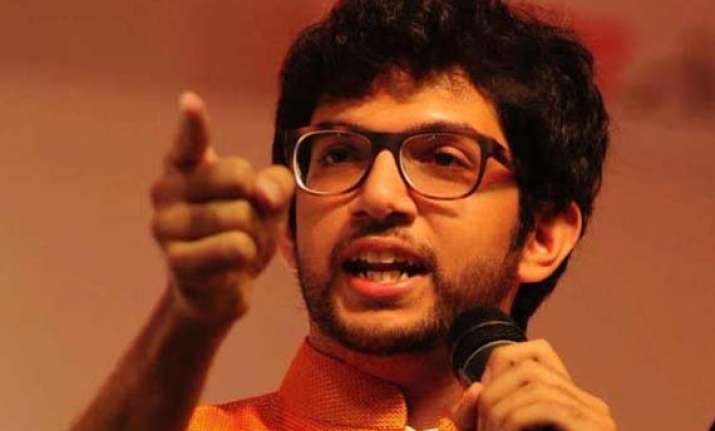 Mumbai: 25-year-old Shiv Sena and BJP alliance is now a history but wounds still remain fresh and raw. Speaking to a news channel, Yuva Sena leader Aditya Thackeray emotionally expresses his anguish at the BJP for not having faith in the youth and backstabbing the Shiv Sena.
Questioning BJP's stand on himself, Aditya said, "The BJP thinks I'm old enough to vote a government but too young to talk for it?"
Days before the alliance officially fell apart, there were talks to break the ice between Shiv Sena and the BJP. Aditya Thackeray was also pushed into negotiations by Shiv Sena which was not appreciated by BJP leaders. Aditya, 24, said that issues regarding my age were given more importance than unity.
 
"It hurt me because if people look at 24 as immature and someone not capable of taking decision then why have they been given right to vote a government? You speak about youth and youth empowerment.  Why do you allow people to marry at the age of 21 if you think they are not capable of making decisions?" said a visibly disturbed Aditya.
 
"I think it's an insult to the youth" he added.
 
The Young Thackeray went on to say that he didn't wish to discuss the BJP further as his party had a lot of vision for Maharashtra and they want to focus on that now.
 
"But yes we were hurt- it was a 25 year-old alliance. We never expected it to break."
 
Aditya Thackeray said that as a child I have participated in more BJP meetings than some BJP leaders.
 
Taking a jibe at the BJP's new President Amit Shah and Modi's core team, he asserted that had veteran leaders of the BJP been active in the party then the alliance would have never fallen apart.
 
"I have seen the kind of cordiality between Pramod kaka, Munde Ka, and Atal Kaka and I know for a fact that had they been there, this wouldn't have happened." He said.
 
Thackeray junior said that some of their family friends who are the BJP members have maintained that 'decision comes from only two- three people' and rest are just abiding by what they are saying.
 
Thackeray confessed that the Shiv Sena did feel "backstabbed"
 
When asked on Shiv Sena's prospects in the upcoming Maharashtra Assembly polls, he said, "Going alone is a huge opportunity for Shiv Sena".
 
"Uddhavji has always taken challenges as an opportunity and converted them to success. In 2002, 2009 and 2012 BMC polls, we had the opposition raging against us, media reported against us and we won. Now every Sainik, who has worked for the party has the opportunity to prove himself."
 
Mahashtra will go to polls on October 15. Two major alliances of the state, Congress- NCP and BJP-Shiv Sena, have fallen apart.
 
The Shiv Sena is now on its 'Mission 150'.