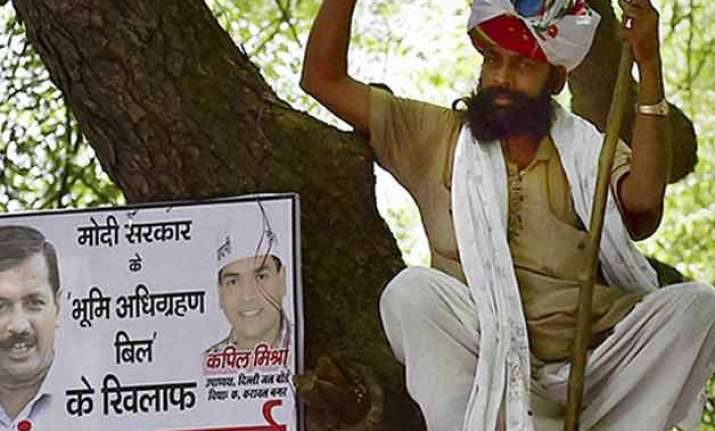 New Delhi: Aam Aadmi Party government and Delhi Police have come into direct confrontation over farmer Gajendra Singh's alleged suicide at party's kisan rally.
Delhi police registered an FIR yesterday accusing AAP workers and leaders of abetting suicide while the party held the police responsible for the incident, saying that it failed to act despite repeated requests.
Police also refused to join the magisterial probe ordered by Chief Minister Arvind Kejriwal, an action that prompted district magistrate Sanjay Singh to threaten the force with "prosecution if they did not submit documents related to the case" by 11am Friday.
The confrontation between the police and Delhi government started when 41-year old farmer from Dausa, Rajasthan hanged himself from a tree in AAP's kisan rally on Wednesday and after the incident Kejriwal accused the police for 'not doing anything' to stop the tragic incident. He did not fail to remind the public that he has no control over Delhi police.
After the political slugfest started and both the BJP and Congress accused the AAP of insensitivity and for politicising the matter, Delhi police registered an FIR based on the complaint of Inspector SS Yadav, who was on duty at the venue. The FIR was registered under Section 306 (Abetement of suicide), 186 (Obstructing public servant in discharge of public functions) and 34 (common intention) of IPC in Parliament Street Police Station.
The row further escalated after Delhi police chief BS Bassi accused AAP of holding its rally in Jantar Mantar ignoring advice to shift to the larger Ramlila Maidan since over 20,000 people were expected.
While AAP government accused Delhi Police of not cooperating in the magisterial probe ordered by CM Kejriwal, DCP Vijay Singh wrote to the DM saying he had "no jurisdiction" in the matter. The DM responded citing relevant sections of the law that gave him the power to probe and an instance of a recent suicide in Chanakyapuri where the police had submitted case documents for an inquiry by the SDM.
Home Minister Rajnath Singh backed the police in parliament yesterday and also indirectly hit at the AAP. The party accused Union home minister of conspiring against the Delhi government. "It is the Union government's ploy to target AAP using the Delhi Police," said spokesperson Sanjay Singh.