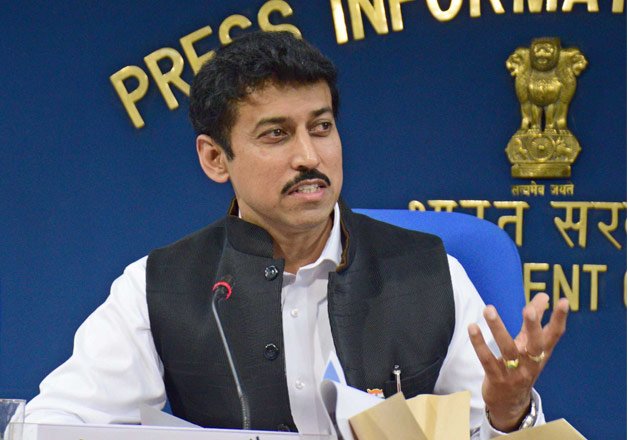 New Delhi: Union Minister Rajyavardhan Rathore has said that the Indian Army gave befitting reply to ultras responsible for killing jawans on June 4 in Manipur.
Rathore, a retired Colonel from the Army, said that it was a much-needed decision that was taken by Prime Minister Narendra Minister.
The minister choose #56inchRocks as hashtag in his tweets to send out a message that the action could become possible because of Modi's visits to various countries.
"Indian Army strikes into the heart of militants. Desh ke dushmano ko karara jawab. Kushal netritva, mazboot sarkar PM@narendramodi #56inchRocks."
In run up to general elections last year, PM Modi, challenging Samajwadi Party supremo Mulayam Singh Yadav, had used a 56 inch reference and said, "You don't have the guts to turn UP into Gujarat. It takes a 56-inch chest."
Using PM Modi's 56 inch remark as a mark of courage, Rathore said that the latest operation signifies India's intention towards a friendly neighbourhood and commitment of zero-tolerance policy on terrorism.
Rathore's another tweet reads: "A salute to Indian Army for #ManipurRevenge strike. Massive political will displayed by our strong @PMOIndia @narendramodi @manoharparrikar."
The Minister further said that the Army's strikes were a message to all countries, including Pakistan, and groups harbouring terror intent towards India.
"We will not tolerate any strikes on India or Indians. We'll always wield the initiative on either being friendly or engaging in aggressive action. We will strike at a place and at a time of our choosing," Rathore said.
In a strong response to the ambush in Manipur that left 18 soldiers dead, the Indian Army on Tuesday launched operations along the India-Myanmar border killing several militants involved in the attack.
The operations were carried out in coordination with Myanmar following specific intelligence inputs of more attacks being planned, said Additional Director General (Military Operations) Maj. Gen. Ranbir Singh.
In the worst attack it faced in three decades, the army lost 18 soldiers in the attack in Chandel district of Manipur on June 4. Militants attacked a convoy of 6 Dogra, which was being de-inducted from the area, with rocket-propelled grenades and improvised explosive devices.
The attack was seen as a major intelligence failure and the advanced weapons used also raised suspicion of international involvement.