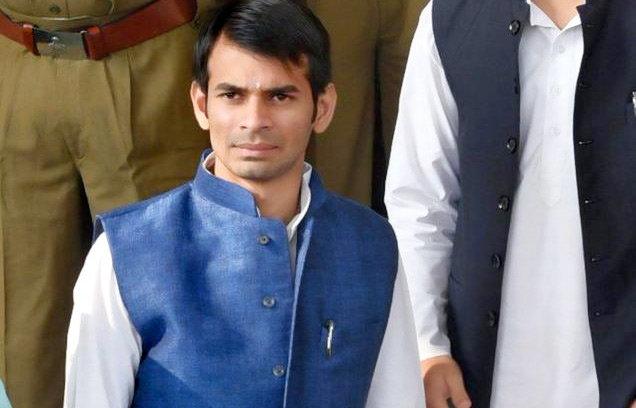 Bihar politician and cabinet minister in the Nitish Kumar-led Grand Alliance government Tej Pratap Yadav has donned many a hat in the past. The last time he was in the news was for his Krishna Kanhaiya avatar on Janmashtami. 
On the occasion of Mahashivratri today, Tej Pratap, son to the Bihar heavyweight Lalu Prasad Yadav, decided that no make-up or prop could justify his devotion for the revered God and decided to take matters into his own hands, quite literally.
While his last avatar saw him decked up with a peacock feather and a flute to resemble Lord Krishna, this time the Bihar Health minister has done the unthinkable.
In a video posted by Tej Pratap on his Facebook page, the Bihar minister can be seeing as Lord Shiva himself. The digitally-laden video shows Tej Pratap mounted atop Mt. Kailash with a bad photoshop job replacing Lord Shiva's face with yours truly, the young Bihar minister.
With the title track of the Ajay Devgan-starrer 'Shivay' playing in the background, Tej Pratap replaces the God with himself – replete with the Shesh Nag around his neck, his trademark 'Trishul' and all that goes along with it.
The video, that appears to have been made by a die-hard fan of the leader, takes sycophancy to an all-time low – or a high dare we say. Even Lalu Yadav, who had a Lalu Chalisa penned after him and appeared to have enjoyed it thoroughly, comes nowhere close.
The last time Tej Pratap was targeted over his Krishna attire, he tried to get away with it by playing the caste card.
We will sure be waiting for the explanation he comes up with this time around. Watch the video and take a guess for yourself.