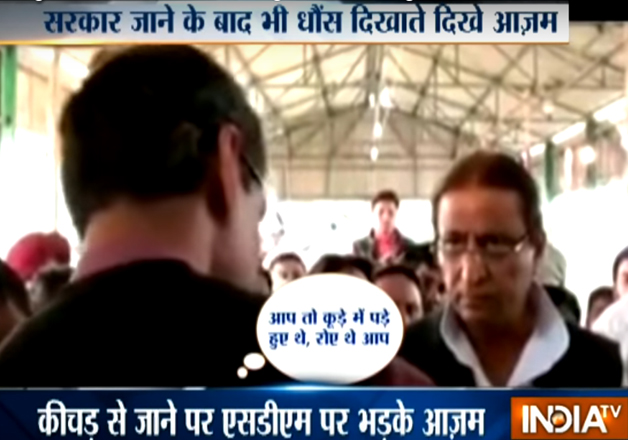 Even if you are among those who failed to follow former Uttar Pradesh Chief Minister Akhilesh Yadav's campaign closely, there was no way you could have missed his claims of having constructed roads. In fact, if there was one thing that stood out in his entire campaign, it was the expressway, the expressway and the expressway. 
Needless to say, anyone sitting outside Uttar Pradesh would have imagined that the Samajwadi Party government led by Akhilesh would have accorded roads the focus it deserves. And going by his repeated claims in rally after rally, one really had no reason not to believe him. While political pundits are still struggling to decipher how on earth the mandate in the recently concluded elections went so badly against the ruling party, senior party leader of buffalo fame Azam Khan may just have the answer.
The date was March 11 – yes the day Akhilesh realized that contrary to his election slogan of 'Kaam bolta hai', people did not listen much into it -- and the SP was facing probably its worst rout in recent years. The party was reduced to a paltry 47 in the 403-member Assembly. The Bharatiya Janata Party, that Azam Khan has opposed tooth and nail – please refer to his diary of insults for PM Modi – had swept to a majority and would go on to form the government. 
Khan, however, had managed to retain his seat from Rampur with a comfortable margin and was on his way to the Returning Office to collect his victory certificate. And it was then that it dawned upon him that the promise that Akhilesh had gone on and about in the state was actually missing from his own constituency. Lashed with overnight rains, the street leading to the Returning Office had turned into a pool of mud and the senior leader had to disembark from his vehicle and make his way in the muck to collect his certificate.
This, of course, did not go down well with the leader. One, because despite his winning the election, his party had lost out on forming the government where he served as a cabinet minister. And second, the same administrative machinery, that he had so infamously deployed on a personal buffalo-hunt mission had made him wade through mud. 
When Khan finally reached the office premises, his fury knew no bounds. At the receiving end was Abhay Kumar Gupta, the Sub Divisional Magistrate of Rampur Sadar. Azam Khan's first reaction: "Kya yeh bhi Modi ji ne kaha tha ki aise laana hai (Was this too an instruction from Modi that I need to be brought here like this)?" 
Azam Khan obviously appeared to be blaming the administrative machinery for the SP's loss. In no mood to relent, Khan went on to remind the official that he was still the boss until the new government does not assume charge. He also went on to hurl a volley of personal insults at the official that included reminding him of how he had got him transferred from 'garbage'. 
To be fair, Azam Khan did however concede that it was a matter of shame for him that roads in his constituency were in such bad shape. It would perhaps done his party a world of good if he and other party leaders had chosen to notice it a little earlier.
Watch the video and feel free to draw your own inferences.