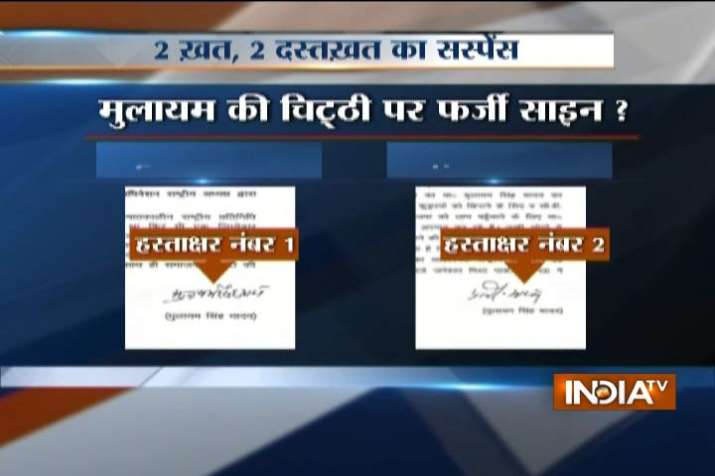 Samajwadi Party patriarch Mulayam Singh on Sunday sacked party vice-president Kiranmay Nanda for attending the National Executive meet in support of son and Chief Minister Akhilesh Yadav and also declared the convention unconstitutional.
However, it has emerged that the letters issued by Mulayam on January 1 -- one declaring the convention as unconstitutional and the other sacking Nanda -- bear different signatures, giving rise to chatter over which of the two is genuine.
Nanda claimed that both the signatures were different. While one signature had the full name of Mulayam Singh Yadav, the second signature was incomplete, Nanda said.
Earlier, Akhilesh Yadav had made several oblique references that Mulayam's name was being misused and the letters were actually being issued by his estranged uncle Shivpal Yadav.
"There are only three months left (for the election results). There's no telling what documents some people may get him to sign, or what decisions they may get him to take. In the greater interest of the party, I had to intervene. In the end, if the Samajwadi Party forms the government, there will be none who'd be happier than Netaji. He has been my leader and father, and I will continue to respect him. No one can hurt this father-son relationship," Akhilesh had said.
Earlier on Monday, Mulayam Singh reached Election Commission office in New Delhi and staked claim on party symbol. Before leaving from here for Delhi, Mulayam Singh told the media that the party belonged to him as he enjoyed the support of the people of India's most populous state.