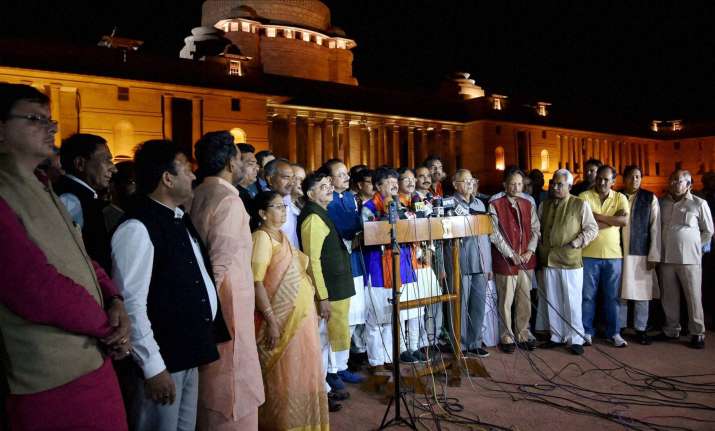 New Delhi: The political crisis in Uttarakhand today escalated with both the Congress and the Bharatiya Janata Party (BJP) delegations approaching the President over the happenings in the hill-state.
A delegation of BJP leaders, headed by general secretary Kailash Vijayvargiya, today met President Pranab Mukherjee and sought dismissal of Uttarakhand government led by Chief Minister Harish Rawat.
"We have requested the president to direct the governor to dismiss Uttarakhand government and to give us time to prove our majority on the floor of the house. We have support of 36 MLAs (in the 70 member house)," Vijayvargiya told reporters after the meeting.
He also said that Harish Rawat no moral right to remain chief minister of the state but "he is calling cabinet meetings and taking decisions."
However, the nine rebel Congress leaders were not the part of the delegation.
Asked about the rebel Congress leaders not joining the delegation, Vijayvargiya said: "They will meet the President separately."
Meanwhile, a delegation of senior Congress leaders too met President Mukherjee and accused the BJP and the central government of dismantling opposition governments in states, especially those ruled by the Congress.
"We apprised the President of situation in Uttarakhand and that how BJP with help of central government has been trying to dismantle opposition governments in the states especially Congress-ruled states," Congress leader Ghulam Nabi Azad told reporters after the meeting.
The delegation also comprised A.K. Antony, Motilal Vora, Ambika Soni, Ahmed Patel and Kapil Sibal.
Azad also alleged that in Uttarakhand, Congress leaders, who are now in Bharatiya Janata Party fold, were held captive by the BJP.
"We informed the President that the BJP people took the Congress leaders into their bus without their consent and presented them before Governor K.K. Paul. Our MLAs have been held captive by them," he said.
He claimed that the BJP with the help of the central government is now putting pressure on the governor to advance the date fixed by him.
"The Governor has asked Chief Minister Harish Rawat to prove his majority on March 28 but the BJP with the help of Centre are now putting pressure on governor to preporne the date fixed to prove the majority," he said.
Azad also claimed that Rawat will prove the majority on the floor of the house.
(With PTI inputs)