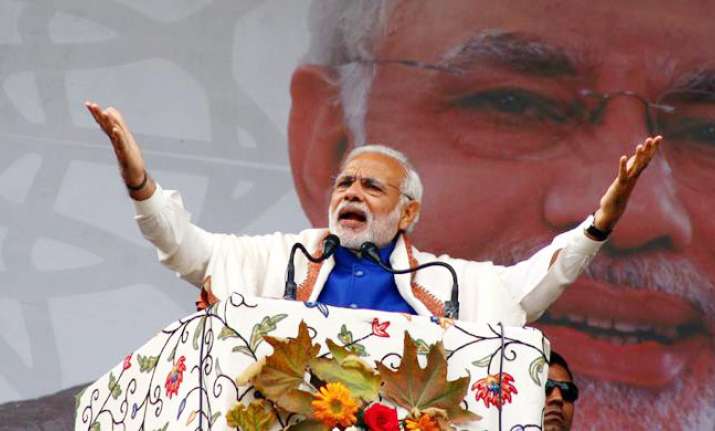 Prime Minister Narendra Modi will address a mega rally in Lucknow today and is expected to make more big ticket announcements ahead of the crucial Uttar Pradesh assembly elections.
Elections dates are expected to be announced any day and with that a model code of conduct will be in force which prohibits the announcement of sops.
The BJP's Uttar Pradesh unit has wagered that PM Modi's rally today will pack the massive Ramabai Ambedkar ground, named after the wife of Dalit icon Bhim Rao Ambedkar. 
The ground was built by Bahujan Samaj Party chief Mayawati when she was chief minister and locals say only her rallies fill it up. The BJP says that will change today, and expects over 15 lakh people to arrive in about 10,000 buses from all over the state to attend the PM's rally.
Union ministers and MPs representing Uttar Pradesh at Centre have already reached Lucknow to take part in the rally. 
BJP President Amit Shah, senior leaders Rajnath Singh, Kalraj Mishra and Uma Bharti are among those attending the rally. 
People from every nook and corner of the state including Awadh, Kanpur and Brij regions have already started arriving in Lucknow despite the winter chill. Party spokesman Chandra Mohan said today's rally will set the tone for change in Uttar Pradesh. 
The rally is seen as a culmination of the four Parivartan yatras carried out by the BJP in the state recently. It will be the first rally by Mr Modi after the expiry of 50-day grace period of demonetisation on December 30. 
The Prime Minister in a televised address to the nation on New Year's Eve announced several measures for the rural and urban poor, small businesses, farmers and senior citizens.
The Prime Minister thanked people profusely for putting up with much hardship since November 8 when he announced a ban on 500 and 1,000-rupee notes, aimed at combating corruption and black money.