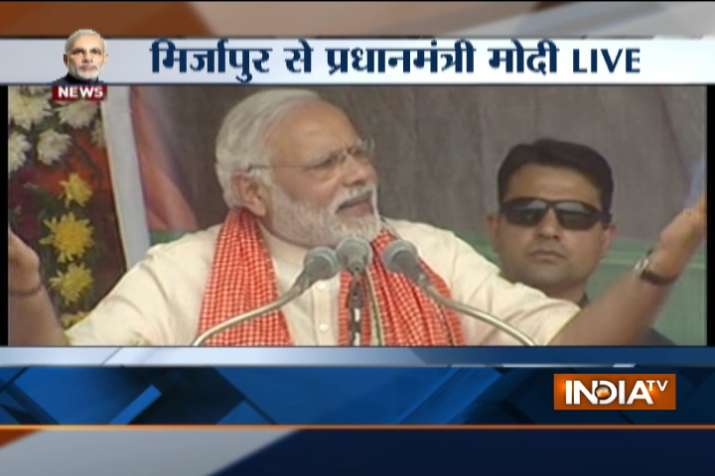 Sounding confident of the BJP forming the next government in Uttar Pradesh, Prime minister Narendra Modi today mocked rival political parties like the SP, BSP and Congress saying they would get electric shocks on March 11 when the Assembly poll results will be declared.  
Addressing an election rally in Mirzapur, PM Modi recalled how Rahul Gandhi had mocked UP Chief Minister Akhilesh Yadav during his 'khaat sabha' campaign  for power scarcity in the state.
"On March 11, elections results will give electric current to SP, BSP and Congress," PM Modi said. 
"Akhilesh has dared me to touch electric wire to find out whether power is really there or not. His new friend Rahul Gandhi during his khaat sabha at Madihan in Mirzapur, however, had touched the wire and told his party leader Ghulam Nabi Azad that there was nothing to worry as there is no power in the line," Modi recalled.
"This is the acceptance of your new friend. Do I need touch the wires any more? ... Akhileshji now people have spread such a current that will give shocks to SP, BSP and Congress on March 11," he said. 
Modi said that during Rahul's "khaat sabha", people had taken away "khaats" as they knew the cots belonged to them and now the same people will ensure the defeat of Congress.  
The sixth phase of polling in Uttar Pradesh is to be held tomorrow and the last phase is on March 8.
Modi's remarks came days after Akhilesh Yadav hit back at the Prime Minister for claiming there was power scarcity in the state, and asked Modi to touch the wires to find out if there was electricity supply.
Taking a dig at Akhilesh Yadav, Modi said those who are not able to perform are beating the drums of their work.
"When Mulayam Singhji was the chief minister, he had promised to open up two new bridges, but why is it that they aren't made yet? Even after 13 years, Akhilesh Yadav could not fulfil this promise made by his father," he said.
The Prime Minister also said that the Uttar Pradesh elections have turned into a "festival" of freeing the state from the misrule of SP, Bahujan Samaj Party and Congress.
Modi was campaigning for the seventh and final phase of the Uttar Pradesh elections in which 40 assembly constituencies go to polls on March 8.
(With agency inputs)