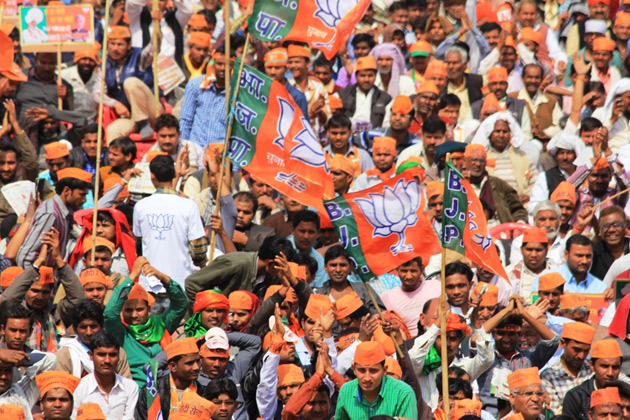 When the then Bharatiya Janata Party's prime ministerial candidate Narendra Modi gave a slogan of 272+ for the Lok Sabha elections in 2014, critics ridiculed him. Even the party leaders did not believe him. What happened after the polls is known to all, and is now part of history. 
The Lok Sabha polls saw a Modi clean sweep leaving the Congress decimated and all poll arithmetic up for a toss.
However, Modi was still seen a leader of the right wing, and political pundits found it hard to accept that Muslims and Dalits do vote for the BJP. 
Today, when the counting of votes for the five state assembly elections began, there was nervousness all around. Supporters and party-men were hopeful that the BJP will perform well, and give the ruling Samajwadi Party a tough fight.
However, even the most optimistic could not have foretold what the trends so far suggest. Narendra Modi and the BJP have swept both UP and Uttarakhand assembly elections. 
A majority of the poll panellists appearing on national news channels concede that both the Muslim (2 to 3 per cent) and the Dalit community (non-Jaatav) have voted for the BJP this time around. If not, the massive victories that the BJP is heading towards in UP and 
Uttarakhand would probably never have been possible.
In terms of the latest vote share data, as available with the Election Commission, the BJP polled 39.6 per cent, followed by the SP and the BSP with 22 per cent each while the Congress was seen getting over 6 per cent.
Transfer of votes was noted and accepted by Dalit leader and BSP supremo Mayawati, who took no time to address a press conference in Lucknow this afternoon. Mayawati, however, had another 'theory' for this transfer of Dalit and Muslim votes. Significantly, 
"Most votes in Muslim majority constituencies have gone to BJP, makes it evident that voting machines were manipulated" said the BSP Chief Mayawati, in the press conference. 
Most votes in Muslim majority constituencies have gone to BJP, makes it evident that voting machines were manipulated: Mayawati,BSP pic.twitter.com/DdXjaqMkQF

— ANI UP (@ANINewsUP) March 11, 2017
Appearing on India TV, BJP spokesperson Syed Shahnawaz Hussain took no time to ridicule Mayawati and said that if this was the case than why BJP is trailing in Punjab assembly elections.
Besides, voters also saw the Modi government's decision of demonetisation of high-value currency as his willingness and courage to fight against the black money. Even if they thought otherwise, the pain of demonetisation failed to gain prominence over local issues.
Needless to say that despite being in office for close to three years now, Modi's popularity has refused to diminish. In fact, Modi has wooed non-Jaatav Dalits and a portion of Muslims, as well. This, despite being criticised for not fielding a single Muslim candidate in the UP elections.