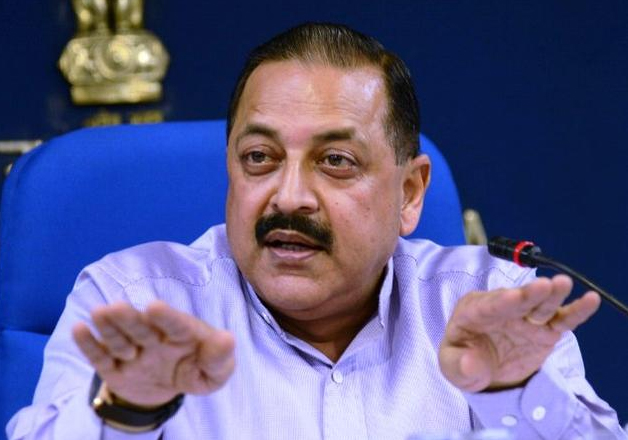 Jammu: Union Minister Jitendra Singh today told Pakistan that Kashmir is not an issue between New Delhi and Islamabad and that the only outstanding matter is how to retrieve the part of Jammu and Kashmir which remains under illegal occupation of the neighbouring country.
"There is no Kashmir problem. It has been made clear on all the fronts. There is no issue of Kashmir between Indian and Pakistan and we are not ready to accept it. ...it was way back in 1994 that Indian Parliament passed an unanimous resolution stating that if at all there is any outstanding issue, it is how to retrieve part of J&K which remains under illegal occupation of Pakistan," the MoS in PMO said.
Reacting to Pakistan's statement describing slain terrorist Wani as "martyr", Singh said, "Regardless of how anyone describes anybody, as far as India is concerned it has reiterated more than once that there is an approach of zero tolerance towards terrorism."
"Pakistan has always been fishing in the troubled waters of Jehlum," he added.
He hit out at Pakistan for raking up the Kashmir issue and said there is no room for any foreign interference from Pakistan or any other country in the internal affairs of India.
"Pakistan, which is raking up the Kashmir issue and human rights issues, should care about human rights violations taking place in Balochistan, Baltistan and PoK," he said.
"I think Indian society and the people of Jammu and Kashmir are now awakened enough to understand the designs and therefore, there is nothing that can derail the development journey which has been started by Prime Minister Narendra Modi across the country, including J&K," he added.
On Kashmiri Pandit employees fleeing their transit accommodation to evade attack by stone-pelting agitators and alleging that the BJP government has failed to protect them, he said, "As far as minorities in Kashmir are concerned, particularly Kashmiri Pandits, it is the responsibility of our government and society that we should protect them... But the answer is not in leaving the Valley."
"Necessary measures are being taken to ensure their security which is of prime concern to us," he added.
Meanwhile, curfew remained in force across Kashmir and normal life paralysed for the eighth day in the wake of clashes following killing of Hizbul Mujahideen militant Burhan Wani.
Violent protests rocked Kashmir last weekend following killing of Burhan Wani and two of his associated in an encounter with security forces on July 8 in Kokernag area of Anantnag district. In the ensuing clashes with security forces, 38 persons including a cop have been killed while 3140 persons including 1500 security force personnel have been injured.
With PTI Inputs