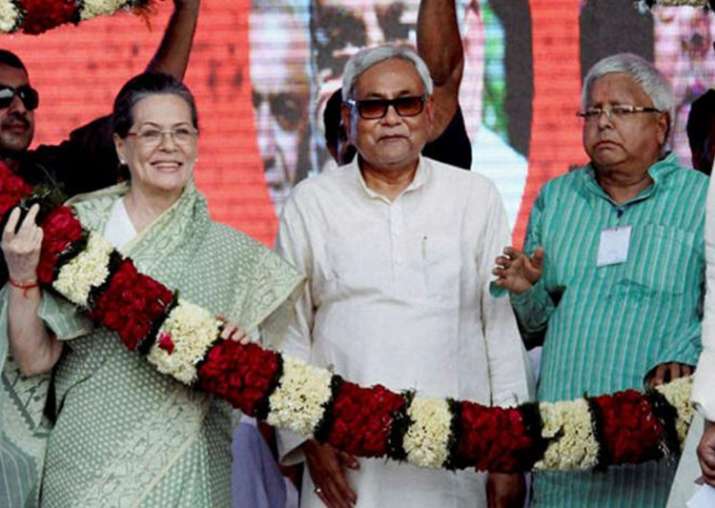 With the Janata Dal (United) stepping up pressure over the resignation of Deputy CM Tejashwi Yadav, who is at a centre of a row over graft charges, Congress president Sonia Gandhi today dialled RJD supremo Lalu Prasad and Nitish Kumar in an apparent attempt to save the alliance.
According to news agency IANS, sources in JD(U) said that Sonia had spoken with Nitish and Lalu and appealed to both not to do anything to break the ruling Grand Alliance of JD(U), RJD and Congress. Sources even said that Sonia persuaded Lalu to ask his son to quit. 
Sources added that Sonia intervened at the insistence of JD(U) leaders, who wanted to see that the issue does not precipitate the crisis further.
Lalu, who was in Ranchi to appear before a special CBI court in connection with the fodder scam, arrived in the state capital this evening and headed directly to his residence. Sources said that he will ask his son to resign from the Cabinet. Also Lalu has agreed to the point that RJD ministers will continue to be part of the Cabinet.
Earlier, sources had told India TV that all RJD ministers will quit if JD(U) persists with its demands for the resignation of Deputy Chief Minister. 
Soon after Lalu arrived here, state Congress leader and Education Minister Ashok Chowdhry went to his residence to discuss the development. Speaking to media outside here, Ashok said that the 'Grand Alliance is intact and all three partners have full faith in Nitish's leadership'. 
"Mahagathbandhan is unbroken. The BJP's tactic to create rift in the Grand Alliance will not yield no result…  Lalu Prasad Yadav and others have full faith in Nitish Kumar's leadership," he said.
Earlier in the day, Ashok had met Nitish. What transpired between them was, however, not known.
The RJD has claimed that the CBI action against Tejashwi is a political conspiracy to destabilize Bihar's ruling Grand Alliance and "Nitish Kumar knew about it". Nitish has yet to say anything directly to media on the issue.
The BJP, which has 53 seats in the Assembly, has been demanding the resignation of Tejashwi following the FIR and even questioned the integrity of Nitish over his stated stand of maintaining zero tolerance against corruption. Earlier this week, Nitish had chaired a crucial meeting of JD(U) MLAs, office bearers and district chiefs. Putting the ball in the court of RJD, the party in a terse message to Lalu asked his son to 'defend accusations in public with facts'.
Earlier this month, the CBI conducted raids across four cities in a corruption case in which Lalu's wife Rabri Devi and son Tejashwi Yadav are among the accused. The case relates to alleged manipulation in award of contract for maintenance of two hotels run by a subsidiary of the Indian Railways - IRCTC -- when the RJD chief was Railways Minister in the United Progressive Alliance government.