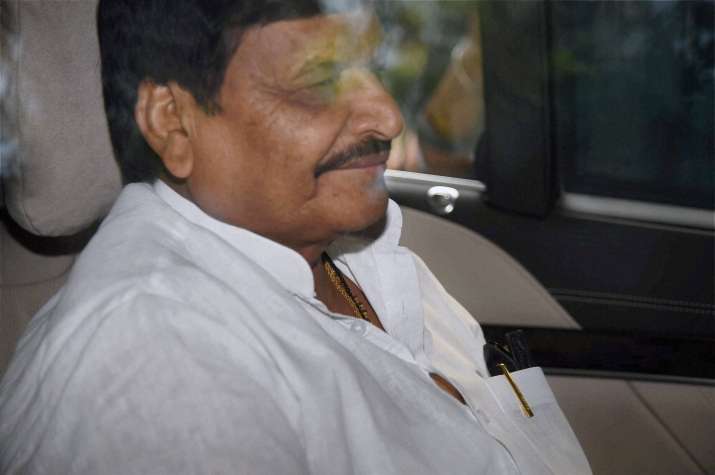 As open strife in the ruling Yadav clan pushed UP into political crisis, senior Samajwadi Party leader Shivpal Singh Yadav on Thursday asserted that the party is not in any kind of trouble and said that he will not challenge Uttar Pradesh Chief Minister Akhilesh Yadav's decision to strip him of all key portfolios in the state cabinet as it is his prerogative.  
"The decision of portfolio allocation is of the Chief Minister. It is his right. In what circumstances did he take this decision, we can't raise a question mark over that," Yadav said addressing a press conference at his residence.  
Shivpal, who was made SP's state unit chief by party Supremo Mulayam Singh Yadav on Tuesday, said he will work at whatever position offered to him. 
"Whoever is given responsibility, whatever it be...we have to follow that. The party is not in trouble. If I am given a responsibility, I will work to the fullest for it. Nobody can challenge Netaji's decisions. In 2011, when I was the state president, back then I was removed and Akhilesh was given responsibility and I accepted that. Netaji took that decision carefully and after consideration surely," Shivpal said. 
The senior minister who is also the brother of Mulayam Singh said he never had any trouble in seekig appointment either with SP chief or with his nephew Akhilesh Yadav.  
 "I always talk with Netaji (Mulayam Singh Yadav). Whenever I want, I talk with him. Whenever I sought an appointment with Chief Minister Akhilesh, I got it. I didn't know that I would be made state president so soon," he said.  
He added that the party needs to stay united as the UP Assembly elections are around the corner.  
"We all have to remain united, it is election time and we have to form government again in 2017. No one has the capacity in our party to disregard what Netaji says," he added. 
When asked if he agrees with Akhilesh being SP's chief ministerial candidate in 2017, Shivpal said "I accept whatever decision Netaji takes."
Shivpal also defended 'outsider' Amar Singh for his alleged role in the current feud in Mulayam Singh Yadav's family and said that an organisation is strengthened by taking everyone along. 
Akhilesh Yadav had yesterday blamed an "outsider" for the crisis.
Asked about other SP leaders' "unhappiness" with Amar Singh, Shivpal said, "Taking everyone along makes an organisation stronger. There are all kinds of people in a party. One has to apply his mind also." 
"If everyone becomes intelligent, all of them will be CM or netaji. Everyone cannot be Akhilesh or Mulayam," he told reporters at his residence. 
Chief Minister Akhilesh Yadav had yesterday cancelled two official engagements and stayed put in his 5, Kalidas Marg official residence since morning to take stock of the situation and perhaps to avoid the media.  
The party top brass swung into damage control to keep the flock together ahead of Assembly elections, with Mulayam Singh Yadav calling Shivpal and Ram Gopal Yadav for a meeting in New Delhi.  
The Mulayam family has been dogged by serious differences but matters reached a flash point yesterday after Chief Minister shunted out Chief Secretary Deepak Singhal, considered as his uncle Shivpal Yadav's favourite.  
In a tit-for-tat action, Mulayam took away the post of UP Samajwadi Party chief from his son Akhilesh, perhaps to smooth the ruffled feathers of Shivpal.  
But, within hours a peeved chief minister hit back by clipping his uncle's wings by divesting him of his key PWD, Irrigation and Cooperative portfolios.