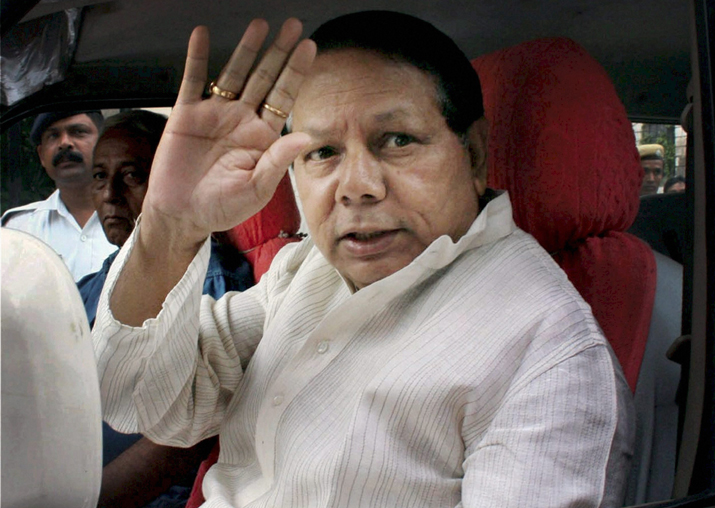 The mortal remains of senior Congress leader Priya Ranjan Dasmunsi were tonight cremated with full state honours here in north Dinajpur district. 
Congress supporters and local people, in large numbers, thronged Raiganj Bandar crematorium and bade him a tearful farewell as the sounds of gun salute reverberated. 
Among those present at Dasmunsi's funeral were his wife Deepa, son Priyadeep, state Congress president Adhir Chowdhury and other senior party leaders. 
Earlier, Dasmunsi's body was brought here from Kolkata in a helicopter and taken by road to his home in Kaliaganj, around 25 km away. 
West Bengal's Public Health Engineering Minister Subrata Mukherjee accompanied the body. 
It took nearly three hours for the convoy carrying Dasmunsi's body to return to Raiganj, as large number of people gathered on both sides of the road for one last glimpse of their beloved 'Priyada'. 
In Kolkata, leaders cutting across political lines, paid tributes to the former Union minister and recalled their association with him. 
Biman Bose, Mohammed Salim and Suryokanto Mishra of the CPI(M), Partha Chatterjee, Saugata Roy and Sovandeb Chattopadhyay of the Trinamool Congress, and leaders of other parties offered tributes to Dasmunsi at the state Congress headquarters - Bidhan Bhavan and at his residence in south Kolkata. 
Floral tributes were also paid on behalf of former president Pranab Mukherjee. 
Thousands of party workers and people lined up with wreaths to show their last respect to Dasmunsi, who died in New Delhi yesterday after a prolonged illness. 
"This is a sad day for the Congress and Indian politics. The void of 'Priyada' can never be filled. He was a multifaceted personality," Congress leader Omprakash Mishra said.