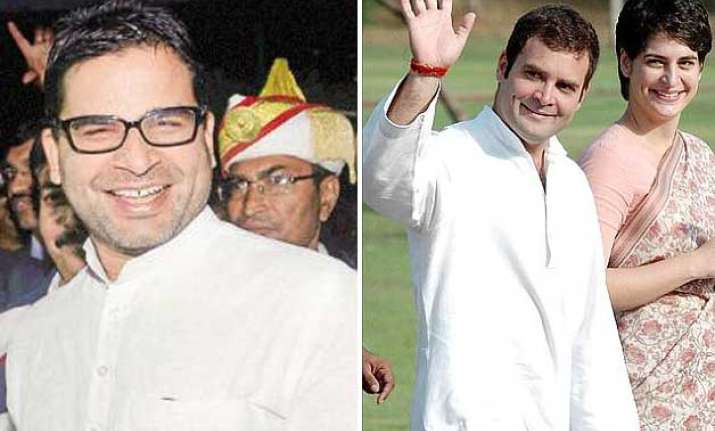 New Delhi: It would be a bit difficult for political connoisseurs to digest that elections in India can be won by professional  strategists and managers but their scepticism is increasingly being challenged  in India nowadays especially after the arrival of Prashant Kishor, the master election strategist,  on the horizons of Indian politics.
The graph of 40-year old Prashant Kishor has touched an all-time high after his two spectacular electoral victories as a political strategist. Kishor has the distinction of strategising the election campaigns of both Prime Minister Narendra Modi in 2014 Lok Sabha Polls  as well as his bête noire Nitish Kumar in last year's Bihar Assembly elections.
The two back to back victories have left political commentators wondering if Prashant Kishor has got some sort of Midas touch.
 
After scripting the historic victory of Narendra Modi-led BJP in 2014 general elections, Kishor fell out with the saffron party because as the media reports suggest, he was denied a major role in Modi government that was allegedly promised to him before the general elections.
After Kishor broke off with BJP, he was lapped up by Modi's bête noire Nitish Kumar who was desperate to take the revenge on Modi in Bihar Assembly elections after his humiliating defeating at the hands of former Gujarat Chief Minister in 2014 Lok Sabha elections owing to a massive Modi wave sweeping the state.
Prashant Kishor accepted the challenge and he delivered an equally spectacular victory for Nitish Kumar-led alliance in Bihar Assembly elections. Bihar victory came as a sweet revenge over Modi for both Nitish Kumar as well as Prashant Kishor.
The resounding victory in Bihar forced all those political commentators to change their perception of Kishor who believed that his role in 2014 victory of PM Modi had been hugely exaggerated.
Interestingly, there was one person who was closely monitoring Prashant Kishor's performance in Bihar elections. His party was in alliance with Nitish Kumar and for him, a victory in Bihar had the potential to inject a new lease of life to the grand old party of India. Yes, we are talking about the Congress vice-President Rahul Gandhi.
Rahul Gandhi was so impressed with Prashant Kishor's success in Bihar elections that he decided to hand over the reins of his party's political campaigns in two upcoming assembly polls – one in Punjab and the other in Uttar Pradesh.
Uttar Pradesh is more important of the two states because it also accounts for 80 Lok Sabha seats.  If Rahul Gandhi has to ever realise the dream of becoming the Prime Minister of India, he has to inject life in UP Congress that is lying moribund as on today.
There was a time when the Congress had a monopoly in Uttar Pradesh. In fact, UP has been the 'Karmabhoomi' of  all Prime Ministers of Congress except PV Narasimha Rao. Right from Jawahar Lal Nehru to Indira Gandhi and Rajiv Gandhi, most of the time, they were all elected from parliamentary seats falling in UP. The party ruled the state for a major part of its electoral history.
Unfortunately for Congress, the party got marginalised in post- Mandal era which also witnessed the arrival of Ayodhya movement. The party lost its dedicated vote banks to different political formations. Muslims switched over to Samajwadi Party(SP), Dalits to Bahujan Samaj Party(BSP) and upper castes plus non-Yadav OBCs switched over to the BJP. The Congress was left with no one to rely upon in elections.
Things came to such a passé that the party could muster only 28 seats in 2012 Assembly elections and in 2014 general elections the party was reduced to 2 seats and the winning candidates were the mother-son duo of Gandhi family.
Under these circumstances, the task of Prashant Kishor is clearly cut out. Fresh from his back to back victories in 2014 general elections and 2015 Bihar Assembly elections, Kishor was said to be confident of catapulting Congress to power in upcoming UP Assembly elections in 2017.
However, after holding sessions with state unit leaders and central party functionaries, he is reported to have scaled down the target to 100 plus Assembly seats in a house of 403.
The Congress will  not form a government on its own with these 100 plus seats but will definitely become the king maker and that would be a virtual comeback to the corridors of power for the party in the state.
According to a report published in The Economic Times, Rahul is believed to have asked for a Rs 400 Crore campaign budget for the Assembly elections. In addition to that, he has sought approval for around 500 strategists and 200 rallies of Rahul Gandhi all across the state. Initially, Kishor was reported to be in favour of Congress going all alone in the Assembly polls but it seems that his study of existing ground realities in the state has forced him to advocate a broad based alliance in the state, more on the lines of Bihar.
But his most interesting demand is regarding Priyanka Gandhi. Prashant Kishor wants Priyanka Gandhi to lead Congress party's election campaign in UP if the party has to touch the 100 plus benchmark.  Like every other person, Prashant Kishor also believes that Congress badly needs a face at the local level. And there is no one in Congress party except Priyanka Gandhi who has got the charisma to rejuvenate the party and strike a chord with the hoi polloi.
There is no denying the fact Indian electorate is fast acquiring a mindset that considers elections as a clash between personalities. The splendid victories of both Narendra Modi and Nitish Kumar suggest that Indian democracy has developed a liking for presidential form of elections where the entire campaign revolves around personalities.
Prashant Kishor himself feels more comfortable in designing electoral campaigns that revolve around the leader. Personal charisma of both Narendra Modi and Nitish Kumar played a crucial role in executing to perfection the campaign strategy devised by Prashant Kishor. Be it " Abki Baar, Modi Sarkar" or "Bihar me bahar ho, phir se Nitish sarkar ho" , Prashant Kishor fully encashed the personal charisma of the clients in executing his communication plan.
Priyanka's face would definitely come in handy for both UP Congress and Prashant Kishor although it won't be easy for her to cross the barriers of caste, creed and religion in a state where polity is deeply fragmented on these lines.
 Kishor's Priyanka plan, however, is reportedly facing some resistance from the old guards who fancy her chances to win a national election and that's the reason they are not willing to restrict her to UP alone.
Congress is out of power in UP for last 27 years. The top leadership especially Rahul Gandhi is desperate to win UP back and media reports suggest that the high command has given Prashant Kishor a free hand to strategise for upcoming Assembly polls.
The question is – can Prashant Kishor bring to an end Congress party's 27-year long exile from corridors of power in Uttar Pradesh even if he succeeds in bringing Priyanka as the party's face in upcoming  state elections?
Old timers may accuse Kishor of overestimating himself and suffering from megalomania but after two consecutive spectacular victories, it would be naive to take this man lightly although the target he has set for himself and the grand old party does not appear realistic under given circumstances.