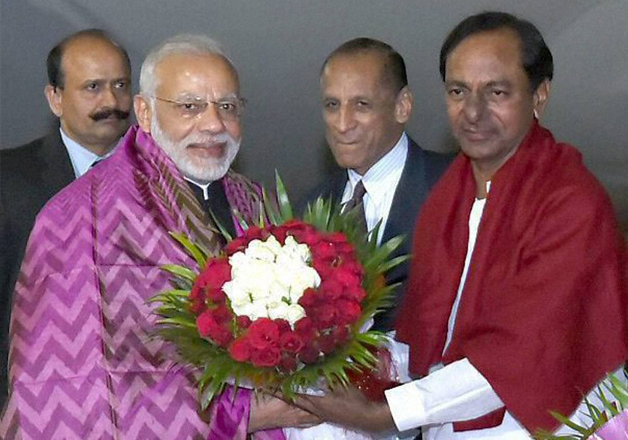 Prime Minister Narendra Modi will today address the annual conference of top police officers of the country (51st Annual Conference of Directors General) that would focus on cross-border terrorism, infiltration and radicalisation of youth. 
The 3-day national conference began yesterday, with DGPs and IGPs of a number of states and Union Territories and top officials of various central intelligence security agencies taking part.
The Prime Minister, who arrived here on Friday, had a night halt at Sardar Vallabhbhai Patel National Police Academy, began the day by participating in an hour-long yoga session with Directors General of Police (DGPs) and Inspectors General of Police (IGPs) and other senior officials.
Modi also paid tributes to India's first Home Minister Sardar Vallabhbhai Patel and the police martyrs. Besides, he planted a sapling in the academy premises.
The Prime Minister later had breakfast with the police officials. He also went around the academy to see the facilities for training of Indian Police Service (IPS) officers.
Sources said that Modi along with Union Home Minister Rajnath Singh will interact with heads of police forces on various security-related issues.
Modi will return to Delhi at 5.30 pm.
Elaborate security arrangements have been made at the police academy at Shivrampally on Hyderabad-Bengaluru national highway.
The three-day conference began on Friday with Rajnath Singh delivering the inaugural address. Ministers of State for Home Affairs, Kiren Rijiju and Hansraj Gangaram Ahir, Union Home Secretary Rajiv Mehrishi, National Security Advisory Ajit Doval and other officials are also attending the conference.
This was the third conference being held outside Delhi. It was held in Guwahati in 2014 and in Bhuj in Gujarat in 2015.